Doing Digital: Six eCom Lessons
By Lyné Brown, vice president – eCommerce
Digital disruption.
It's the biggest story in retail and consumer goods this century. The rise of the internet, and with it online retail and social media, has fundamentally changed our culture — and our industry.
Fortunately, Clorox saw this digital disruption coming and got on board. In tech speak, we were early adopters.
Back in 2013, we built technology transformation into our 2020 Strategy. We saw the need to reimagine how we reach consumers because tech was changing how people interact with and learn about brands, and also how they shop.
This strong, early bet on digital has paid off.
Clorox has a five-year history of double-digit sales growth in eCom, and online accounted for 4 percent of company sales in fiscal year 2017. Our team's "big, hairy, audacious goal" (BHAG) is to hit $500 million in online sales by 2020. Compare that with virtually no sales online 10 years ago. And this growth is even happening in historically slow-growing categories.
This fiscal year, over 50 percent of our total media budget will be spent on digital.
We've learned a lot on this journey so far, and these are six things we know about winning on the digital shelf.
It pays to test and learn
In many of our categories, we have a first-mover advantage.
Because we were there early, we were free to test and learn. We tried out a lot of ideas, experimenting to find out what works. We planted seeds and watched what happened.
We continue to explore today, tracking trends and trying exciting new technologies. We make calculated, small bets and test and learn and refine. And then we lean into what works and do it again.
Digital disruption isn't something that happened just once. It's ongoing, and Clorox is continually trying new approaches to stay at the top of the digital shelf.
Fundamentals of category management and shopper marketing still matter
Clorox is an expert in category management, and we know how people feel about our brands.
That's as important online as it is in traditional retail.
But it looks a little different online. Where in the real world you want your products to appear at eye-level on the shelf, you want them to appear on the first page of results online.
This requires us to understand what drives the retail shelf "algorithm" — the set of rules the technology uses to determine where products fall in any given search.
We do that, in part, by optimizing content on our product detail pages. For example, a lot of thought goes into what we call products and how we describe them online so they perform well in search.
This combination of strong category management and shopper marketing plus understanding what drives online sales makes Clorox a valuable partner to online retailers looking to grow both their business and categories.
Building the digital shelf drives sales
How your products appear in search is critical to the digital shelf.
Many online shoppers come to a site already knowing the brands they want to buy, which helps us. And because we were online early, we have a long history of consumer clicks and purchases, which also helps. Another element of the digital shelf is consumer reviews, and because people love Clorox products, those tend to be positive.
All these factors together help us do well in organic or earned search.
This plays a big part in showing up well on the digital shelf.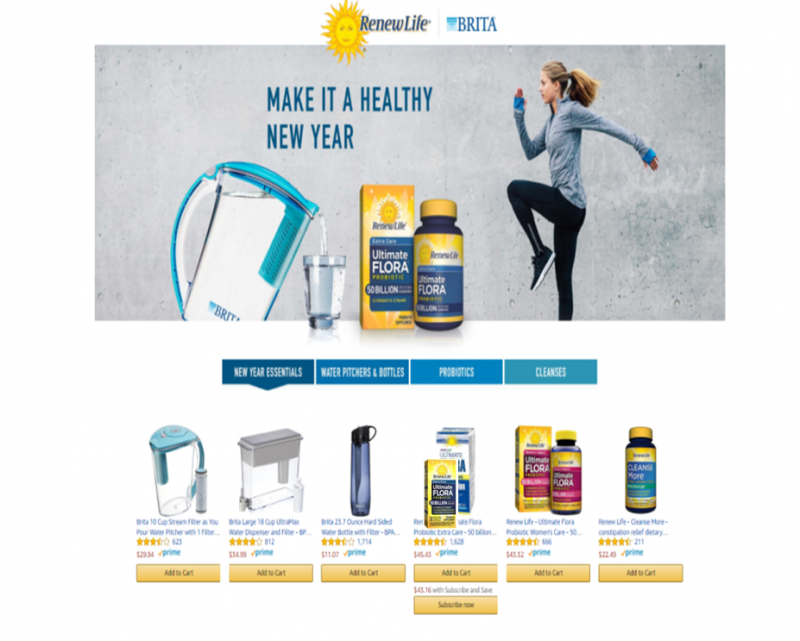 Omni is awesome
Brick-and-mortar retailers are becoming omnichannel retailers, meaning they are both brick-and-mortar and online. They want a seamless experience for their customers, and partnering with a company like Clorox helps them deliver that.
We recently held a big spring cleaning event with one of the big, traditional retailers.
The online event was supported in stores with displays.  Due to the online merchandising and strong retail support, we saw great growth during this period both in stores and online.
Retailers know they can count on Clorox to deliver this sort of winning formula, leveraging our online savvy and in-store expertise for a consistent shopper experience whether that shopper's in a store or in her kitchen.
Low barriers to entry can benefit startup and large brands alike
We're all familiar with the stunning disruption stories of companies whose online-only, direct-to-consumer plays have disrupted the CPG industry.
On Amazon, almost anyone can hang a shingle and nab a spot on the digital shelf.
Now, it takes strong execution and quality products to land consistently on the first page of products. But small players can clearly benefit from the low barriers to entry online.
What's interesting is how much large companies like Clorox can benefit, too.
Take our recent foray into China via T-Mall. As big a market as China is, Clorox has made a strategic decision not to grow in brick-and-mortar there.
Online, however, we've begun to sell Burt's Bees® products in China. Digital gives us a low-cost opportunity to gain a foothold in and learn more about a potentially huge market.
We must see a path to profitability for ourselves and retailers
Building on the awesomeness of omnichannel opportunities for Clorox, we also are enthusiastic about the rise of brick-and-click retail, where people purchase online and pick up in store (or even curbside.)
One fact about how Clorox does eCommerce is that we only sell where we see a path to profitability —for ourselves and for the retailer.
We're pretty excited about the capabilities coming with brick-and-click. It allows more of our retailers to sell our products online. A lot of our portfolio is heavy and doesn't go through the mail very well — think Fresh Step® litter or Kingsford® charcoal. Brick-and-click is also a more profitable way for our traditional brick and mortar retailers to play online because they don't have to invest as much in fulfillment by mail.
But if people choose to buy online and pick up in store, we can get more of our products on their digital list. And that opens up a lot more of our portfolio to the profitable growth potential of eCommerce. 
These are six lessons we have learned from roughly a decade in e-Commerce. Clorox keeps learning and trying new approaches as the landscape changes, and we are tremendously excited about what the digital future holds.