Delivering Innovation to the Professional Cleaning Industry
By Brad Ferris, Associate Director, Public Relations, Clorox Professional Products Company
The Clorox Company has a legacy of protecting public health. Since it was introduced in 1913, Clorox® brand liquid bleach has played a critical role in helping kill germs that cause illness. A lot has changed since then, but our commitment to public health has not.
Today, Clorox Professional Products Company is driving innovation beyond product solutions. Through new equipment offerings that optimize delivery for superior surface coverage, we're helping keep commercial facilities healthier. Chris Tucker, vice president and general manager, shared her thoughts on what drove the bold thinking behind the groundbreaking new Clorox® Total 360™ System.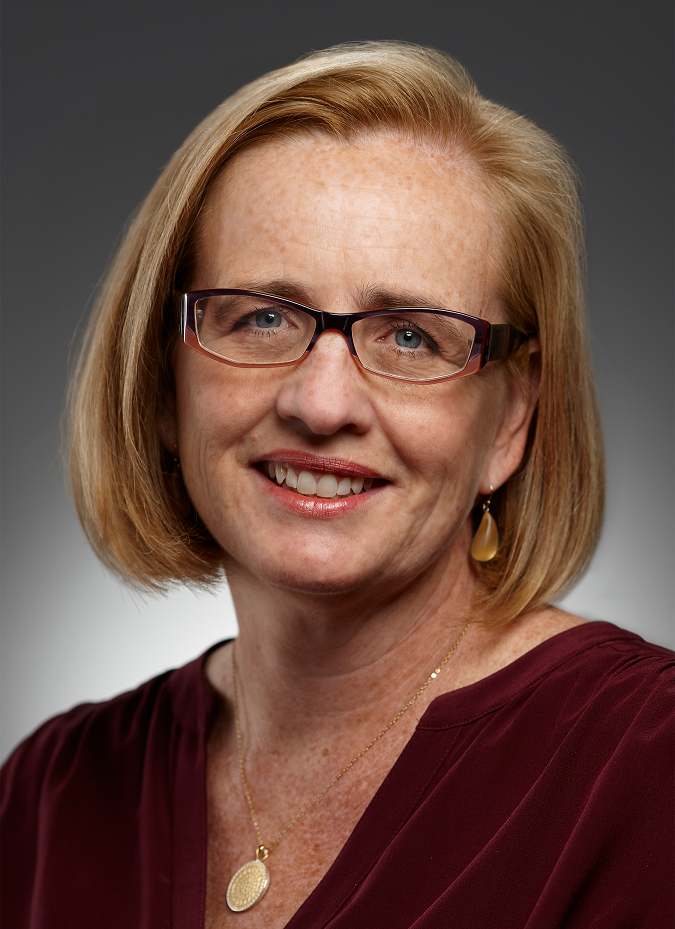 How is Clorox Professional driving innovation with the new Clorox® Total 360™ System?
Electrostatic spray technology has been used in the agriculture and automotive industries for years, but we realized that under the right circumstances, it could also be a powerful tool for the professional cleaning industry. We recently announced the Clorox® Total 360™ System, a completely new offering designed to help customers across many diverse industries fight illness-causing germs in their facilities.
There are other electrostatic sprayers on the market, but where other companies sell just the device, we provide a comprehensive solution. A powerful complement to our portfolio of surface disinfectants and sanitizers, the Clorox® Total 360™ System provides superior coverage through proven electrostatic technology that delivers Clorox® solutions onto hard-to-reach surfaces. It can reduce the risk of missed or inadequately treated surfaces, helping our customers keep their facilities healthier while saving time, money and labor.    
Why is the prevention of illness so important for commercial facilities? 
Whether it is a school, gym, office or hotel, public spaces are filled with frequently touched surfaces that can harbor illness-causing germs that, if left unchecked, can have serious public health consequences and stop businesses in their tracks. Each year, productivity losses linked to absenteeism cost employers an average of $225.8 billion.[1] Schools are often among the hardest hit, with nearly 60 million school days lost each year due to cold and flu alone.[2]
Thorough cleaning and disinfection is the first line of defense against everything from the germs that cause colds and flu to norovirus and Methicillin-resistant Staphylococcus aureus (MRSA), so facilities need to be confident that their products and protocols are up to the task.
How does the Clorox® Total 360™ System meet industry needs?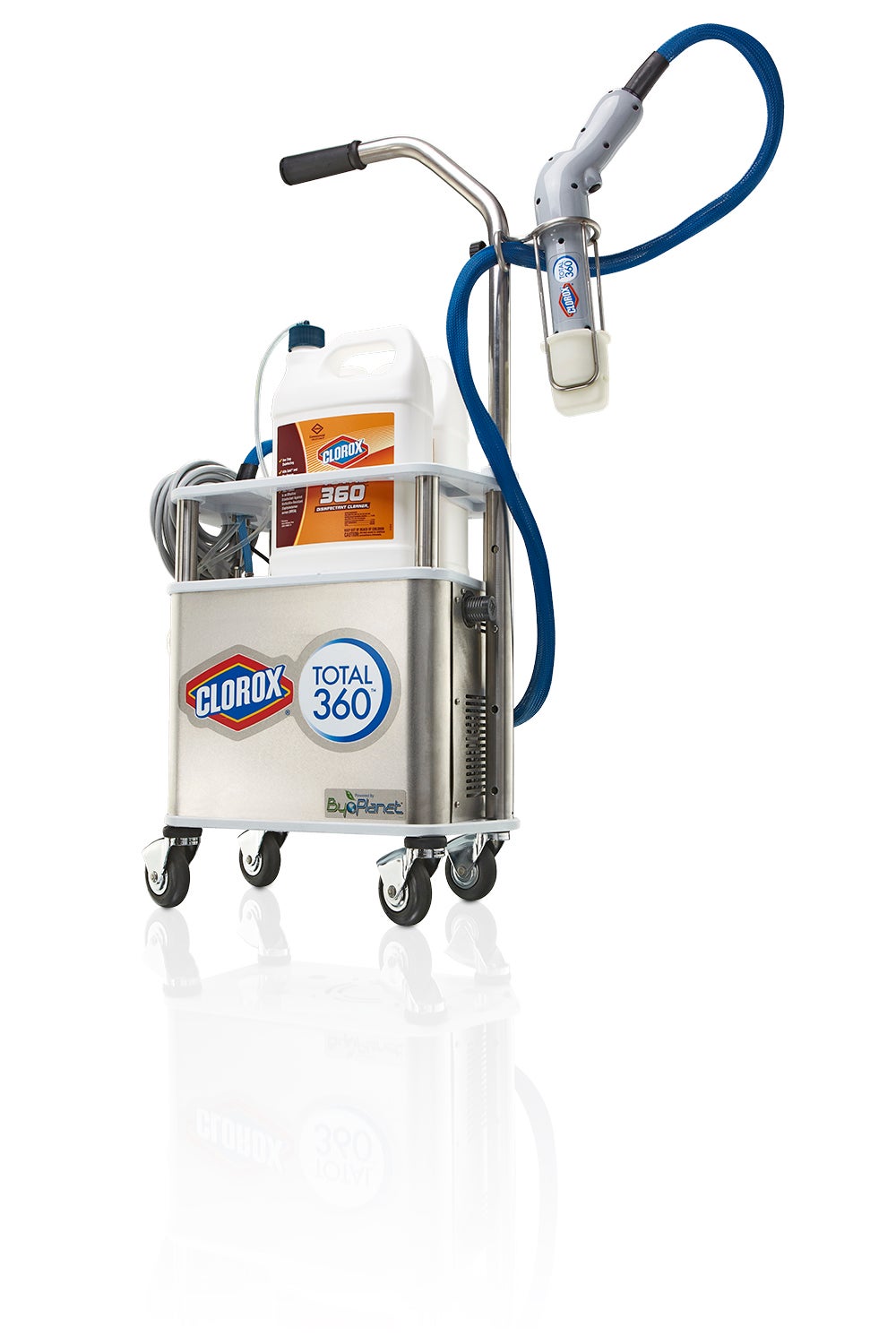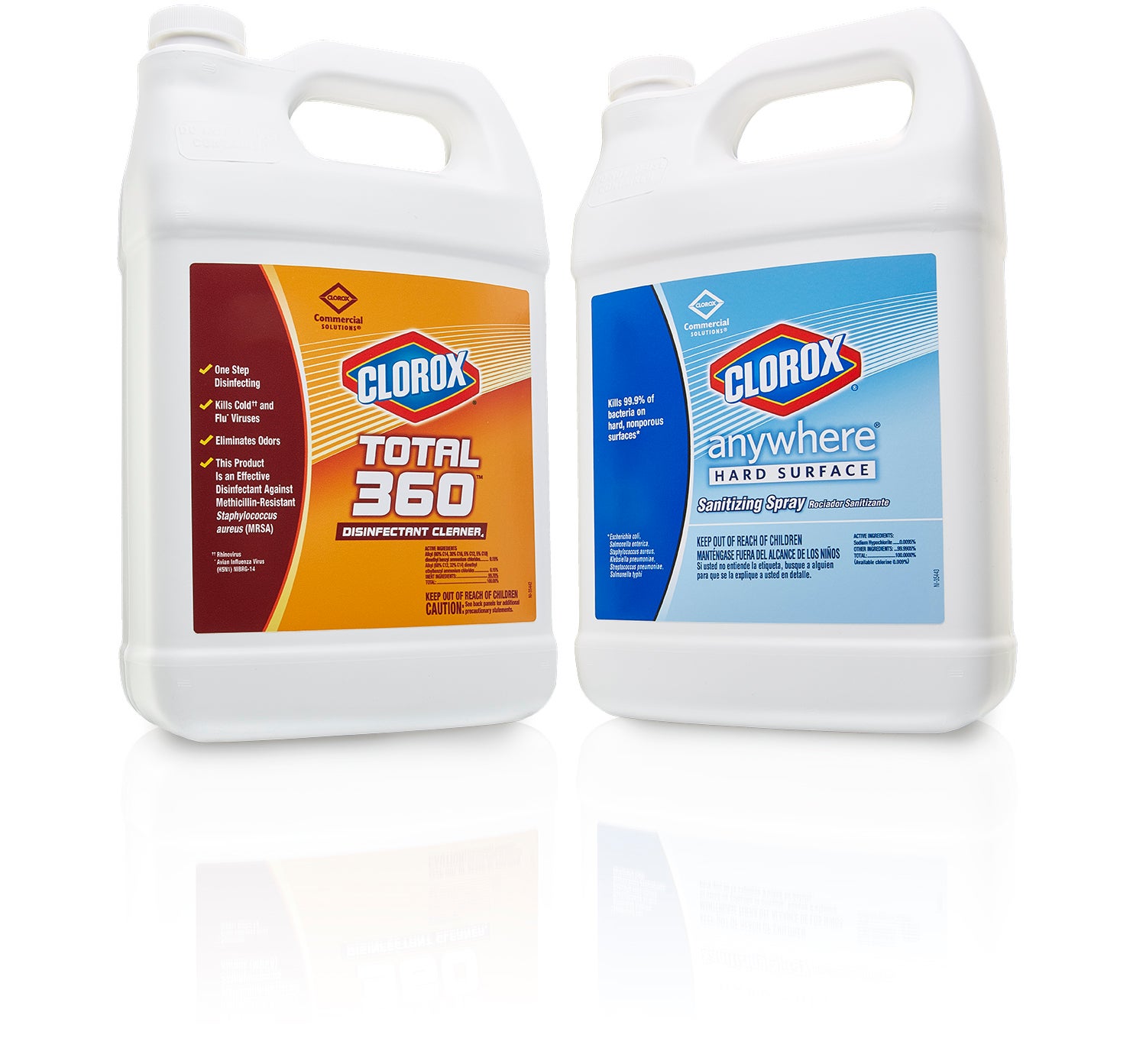 Keeping facilities clean and healthy is a tough job. The industry is tasked with tackling a host of challenges, managing the pressures of time and manpower constraints and ever-shrinking budgets while maintaining a visibly clean environment and preventing the spread of germs. Cleaning industry professionals rely on effective disinfecting and sanitizing products to get the job done, but if those products never make it to the surfaces that need to be treated, their impacts are limited.
The Clorox® Total 360™ System is a true game changer. With this powerful delivery system, our customers can quickly and easily reach surfaces even outside the line of sight, uniformly covering the sides, underside and backside of surfaces where conventional trigger sprays may miss. It is able to cover up to 18,000 square feet per hour, providing superior surface coverage up to four times faster and using up to 65 percent less product compared to conventional trigger sprays per square foot. From lockers and classroom desks to office chairs and conference room tables, the Clorox® Total 360™ System has them covered.  
With the Clorox® Total 360™ System, we're innovating to deliver on our deep commitment to helping protect the public health and to our company commitment to good growth.
[1] "Work Illness and Injury Costs U.S. Employers $225.8 Billion Annually," CDC Foundation, Jan. 28, 2015.
[2] "How Dirty is Your Child's School?" ISSA.com. Retrieved from: http://www.issa.com/certification-standards/clean-standard-k-12/how-dirty-is-your-childs-school-infographic/how-dirty-is-your-childs-school-infographic-full.html.