Clorox Supports Hurricane Relief
By Deborah Napierski, Associate Director – Community Relations
Updated Oct. 22
Harvey. Irma. Maria.
Much of the southeastern U.S. and Caribbean is only beginning to recover from this fall's devastating hurricanes and floods. Clorox has operations in many of the affected areas: Puerto Rico, Houston, Florida, Georgia, Dominican Republic. We are grateful all our employees in these regions are safe.
As these places dry out and rebuild, Clorox is there to support them in myriad ways. We know residents are on a long journey to recovery, and we encourage everyone to do what they can to help, including donating to the Red Cross to support victims of Hurricane Harvey and victims of Hurricane Maria in Puerto Rico.
Clorox is a proud supporter of the American Red Cross Annual Disaster Giving Program at the $1 million+ level. The program supports the immediate response and relief efforts for victims of natural disasters.
Here's a snapshot of how our company, employees and brands have helped impacted communities between Aug. 25, 2017 through Oct. 20, 2017.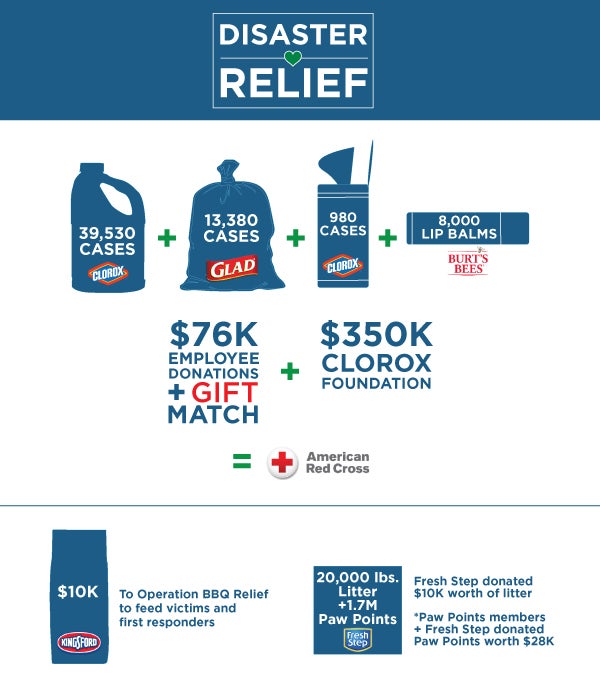 Clorox is matching employee donations to disaster relief dollar-for-dollar through our employee giving program, and we've activated our Employee Emergency Relief Program so Clorox employees can donate money directly to help colleagues affected by these terrible storms.
We also are donating products, from Clorox® bleach to Glad® trash bags. Bleach offers unique benefits in times of disaster. It can purify water for drinking, cleaning or bathing. It can also help prevent waterborne illnesses.
Our Kingsford brand donated $10,000 to Operation BBQ Relief to help feed displaced people and first responders. The Fresh Step brand donated 20,000 lbs. of cat litter valued at $10,000 to shelters, and together, Paw Points members and the Fresh Step brand have donated almost 1.7 million Paw Points (worth about $28,000 in cat litter) to shelters across Texas and the Southeastern U.S.
You can help, too. Consider making a donation to the American Red Cross, or another qualified charity of your choice working to aid hurricane victims. Many people have lost everything, and even small gifts can make a big difference.