Clorox Brand Has a (Toy) Story to Tell
The Clorox brand has a story to tell, so it rejoined forces with the summer-making team at Disney and Pixar for another blockbuster collaboration.
"Toy Story 4" is an all-new adventure showcasing a family road trip in which Woody unexpectedly reunites with his long-lost friend Bo Peep. Woody and Bo are worlds apart when it comes to life as a toy, and they soon realize that's the least of their worries.
Join us as Swathi Rao and Kristin Ganz of the Clorox Marketing team take us inside the brand's collaboration with Disney and Pixar.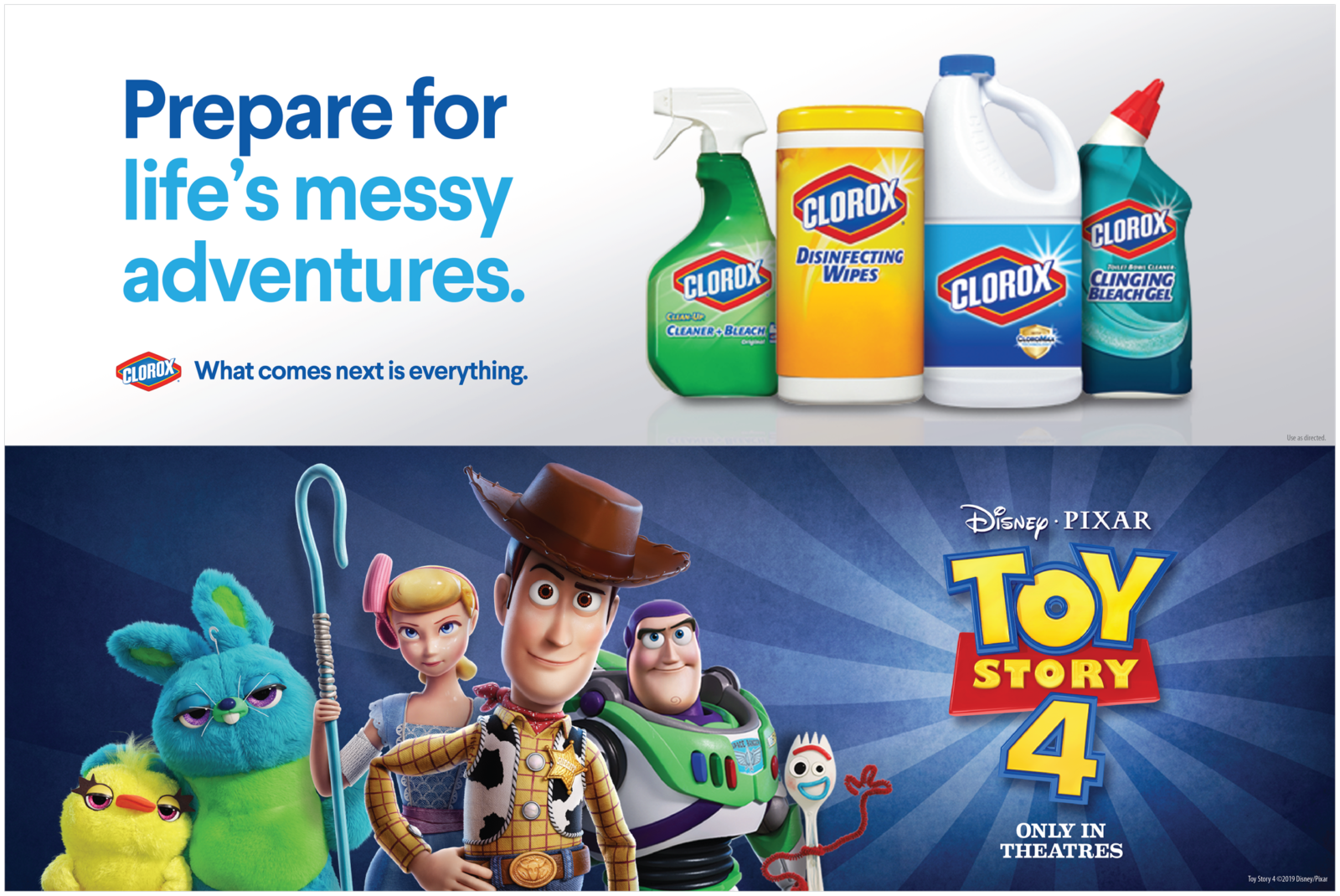 Q: Beyond wanting to work again with Disney and Pixar, and on one of the summer's most anticipated movies, why is "Toy Story 4" a fit for Clorox?
A: The association with a beloved blockbuster movie franchise is great, but it's not enough on its own to create a compelling, integrated marketing campaign. So we spent a lot of time digging into the brand synergy between Clorox and "Toy Story 4." 
"Toy Story 4" revolves around a road trip adventure with Woody and the gang, and we believe that life's new adventures are better with Clorox. After all, messes have a way of accompanying new experiences, and Clorox products help consumers handle every germy, sticky and otherwise messy moment with ease.
Q: How is this collaboration coming to life?
A: This will be our most robust collaboration with Disney and Pixar to-date. We've developed a marketing campaign to intrigue, incentivize and ultimately win over shoppers. It kicked off in mid-May with a co-branded national TV commercial that leverages actual clips from "Toy Story 4."  This spot includes everyone's favorite Toy Story characters and is set in a classroom, which leads nicely into Back-to-School, an important promotional period for us. We'll then encourage people to purchase Clorox products with in-store and digital shopper marketing tactics, a co-branded sweepstakes* for a family vacation and a Fandango discounted movie ticket offer.
Q: How do we keep building every time we work with Disney and Pixar?
A: We always try to leverage past learnings to make each new campaign our strongest ever. Last year, we created a fully custom animated spot for our "Incredibles 2" collaboration. This year, we decided to develop a more cost-effective clip-based spot, building a Clorox cleaning story around existing "Toy Story 4" footage. This approach allowed us to invest more in the in-store shopping experience.
Q: Did you face unique challenges working with animated creative?
A: It was a challenge to combine existing animated clips and live-action footage into a seamless narrative. Our solution was to have Disney produce the live-action scene so that everything from the furniture and outfits to the model's hands matched the look and feel of the movie clips. Another challenge was figuring out how to use certain "Toy Story 4" scenes with lots of characters without overspending our talent budget. Again, we worked with Disney to develop creative solutions.
Q: What's the value of these sorts of collaborations, since they require so much time and money and effort?
A: "Toy Story 4" is a cultural phenomenon and appeals to viewers of all ages, including our target Clorox consumers. Children who saw the first "Toy Story" in theaters are now parents themselves and will be bringing their kids to see "Toy Story 4." This relationship with Disney and Pixar helps us stay relevant and continue to lead the Cleaning category during May-June, typically a quiet merchandising period for cleaning.
And of course, working with a film that has like-minded values helps us connect in an authentic way with our consumers to reinforce Clorox's brand purpose: Clean is the Beginning. What Comes Next is Everything. 
*NO PURCHASE/TEXT NECESSARY. Void where prohibited.  Open only to persons who are eighteen (18) years of age or older, or the age of majority, whichever is older; legal residents of, and physically located within, the fifty (50) U.S. or D.C.  Entries must be received between 12:00pm noon (PT) on 5/20/19 and 11:59pm (PT) on 7/7/19. Visit Disney.com/FamilyVacation for Official Rules and to enter online for free or text the word "VACATION" to 347639. Message and data charges may apply. SMS entrants will receive one (1) confirmation text per each daily entry. ONE (1) ENTRY PER PERSON PER DAY.
FANDANGO and the Fandango Logo are registered trademarks of Fandango Media, LLC.