Bringing the joy to cleaning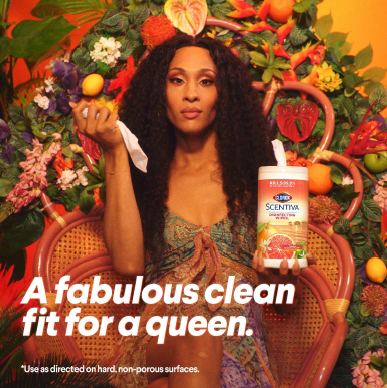 By Arielle Kouffman, Associate Marketing Manager
It's spring cleaning season — or, as the Scentiva brand calls it, "our Super Bowl."
So we're pulling out all the stops to reach our goal: move from being seen as a scented Clorox line extension to a true sub-brand that can disrupt the drudgery and perceptions of what cleaning looks like. The strategy was to increase awareness of Scentiva among multicultural millennials — one of the consumer megatrends identified as part of the company's IGNITE strategy to drive bigger, more enduring innovation. For those who already buy Scentiva products, we needed to showcase how the brand brings joy to cleaning.
That meant developing a campaign that could captivate all the senses, with messages intended to resonate with our audience. Feast your eyes (and ears) with the creative featuring Emmy-nominated and Golden Globe Award-winning Afro-Latina trans actress Michaela Jaé Rodriguez, known for her work on the show "Pose." The spots lean into the #dance clean movement.
This year's campaign builds on the learnings and successes of the 2021 "Yas Clean" campaign featuring Billy Porter. Scentiva will again lean into TikTok — where we reached 10 billion views last year! — with influencer Vanesa Amaro, known as the queen of #CleanTok, who has English and Spanish channels as well as other influencer videos. It also adds personalization opportunities to meet individual needs — another priority in our IGNITE strategy to meet rising consumer expectations — while also optimizing current assets to halo to our Hispanic consumer target where possible through Pandora audio, banners, and the bilingual TikTok videos. We're piloting shoppable ads on Hulu and Pandora as well.
Another unique aspect of this campaign is its focus on the Scentiva platform as a whole rather than specific products. This sets us up to scale now and in the future as we expand Scentiva into other forms.