Responsible Sourcing and Sustainability
We have a strong commitment to ethical business practices; treating people with dignity, respect and equal opportunity; and conducting business in a responsible way that promotes good stewardship of our planet. Business partners are expected to comply with our Business Partner Code of Conduct. The Code details our expectations regarding adherence to the Human Rights Commitment and other expectations related to human rights and labor, health and safety, the environment, and business conduct and ethics.
As part of our IGNITE Strategy, we are focusing on climate stewardship as one of our critical environmental, social and governance (ESG) priorities. This focus extends into our upstream supply chain, where we have committed to setting science-based scope 3 greenhouse gas emissions reduction targets that require us to engage heavily with our suppliers to reduce their carbon footprints. This priority is in addition to ongoing efforts to help ensure there is no deforestation in our forest commodity supply chains.
Our responsible sourcing and supply chain sustainability program – including our related commitments and progress – is led by our vice president – Sustainability, with executive oversight by our senior vice president – Chief Product Supply Officer. The Nominating, Governance and Corporate Responsibility Committee (the NGCRC) of our board of directors oversees programs relating to corporate responsibility and sustainability ESG matters. Our full board also reviews and discusses ESG topics regularly – including progress toward meeting our specific ESG goals – and oversees risks, opportunities and strategy related to ESG issues that are priorities for our business such as sustainable supply chain management, product safety and other significant areas.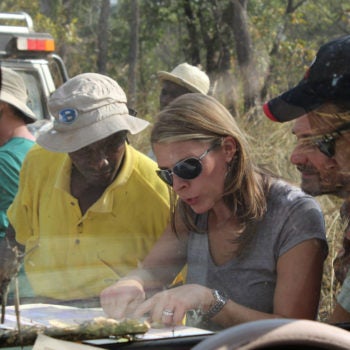 Industry Collaboration
We continue to expand our involvement with various organizations and stakeholders to help drive responsible sourcing improvements throughout the consumer packaged goods industry. 
One example is our participation with AIM-Progress, a forum for leading consumer goods manufacturers and suppliers to help improve responsible sourcing practices, build supply chain capabilities, share ethical sourcing audits and collaborate on human rights and other supply chain activities. Our collective actions seek to positively impact people's lives through combined leadership of responsible sourcing practices throughout our supply chains.
We are also a member of SEDEX and use Sedex Member Ethical Trade (SMETA) Audits for collecting and analyzing information on ethical and responsible business practices in the supply chain. Through our mutual recognition approach, our selected business partners complete one self-assessment and/or audit that may be shared with multiple customers, including AIM-Progress members. In this way, manufacturers and suppliers, including Clorox business partners, can focus their efforts on improving responsible sourcing practices through the supply chain rather than preparing for duplicative audits.
As a member of the Roundtable on Sustainable Palm Oil (RSPO) we are dedicated to the principles and criteria focused on eliminating the negative impact of palm oil cultivation on the environment and communities in palm oil-producing regions. We are active members of the North American Sustainable Palm Oil Network (NASPON) and share their mission to educate, build momentum and assist North American companies in making and delivering on commitments to source sustainable palm oil. In addition, we work closely with the Earthworm Foundation (EF) which is a non-profit organization driven to positively impact the relationship between people and nature. Our work with EF is primarily focused on traceability and on-the-ground transformation activities within the palm oil industry.  
In an effort to advance collaboration in natural ingredient supply chains, we are founding members of the Global Shea Alliance and Responsible Mica Initiative. Through these organizations and multi-stakeholder engagement, we focus on developing unifying projects with values shared with our businesses and our suppliers to have a positive impact on the sourcing of natural ingredients for the beauty industry. We also actively partner with our ingredient suppliers and producing communities of natural ingredients for Burt's Bees products in collaborative partnerships on topics such as: women's and children's empowerment, health and safety, and access to clean water, and biodiversity.