Vintage Bottle Guide
Bottle collecting has become an increasingly popular hobby among antique lovers in the United States.
But bottle buff interest isn't confined to historical flasks and ornate decanters; it also includes many types of modern bottles, reproductions, and "collectibles"—bottles not old enough to qualify as antiques—such as the early Clorox liquid bleach bottles.
The trend toward "collectible" bottle gathering is growing. These bottles are more plentiful and considerably less expensive to purchase than their older counterparts, making it possible to possess an interesting bottle collection without substantial investment.
Because people frequently write The Clorox Company asking the vintage of old Clorox liquid bleach bottles they've acquired, this online guide has been prepared to help collectors determine the approximate age of different Clorox bottles used over the years.
The Clorox Company began the shift to plastic bottles in 1960.
Note:
This guide has been prepared purely as an aid for collectors wishing to determine the vintage of early Clorox bleach bottles.
The Clorox Company sets no value on these bottles, nor does it wish to purchase old bleach bottles.
Collector's Tips
From the days of the crockery jug until 1940, cork-style rubber stoppers were used on the standard Clorox bleach amber glass bottles. In 1940, a screw cap was introduced, and a modern adaptation of that top is still used today. These more modern screw cap bottles can be easily identified by their threaded necks as contrasted with the smooth finish, cork-style necks of the earlier Clorox bottles.
Height and content capacity is another way to determine the vintage of Clorox bottles. Until 1933, the Clorox "pint" contained 15 ounces and measured 7-10/16″ in height. In 1933, the 15 ounce "pint" became a true pint — 16 ounces — measuring 7-14/16″ in height. Through the years, the quart bottle also experienced various changes in height and width, though it was always contained 32 ounces.
The Earliest Bottles
In 1913, Clorox liquid bleach was initially offered in five-gallon crockery jugs since it was originally used exclusively by industrial concerns, such as laundries, breweries, walnut bleachers and municipal water companies. This product was delivered by horse and wagon to various customers in San Francisco Bay Area for use as a bleach, stain remover, deodorant and disinfectant.
Five years later, in 1918, Clorox bleach was introduced into American households in 15-ounce amber glass "pint" bottles by the Electro-Alkaline Co., forerunner of The Clorox Company. From 1918 through 1928, these same "pint" containers were also used by other companies to bottle a variety of liquid products. Consequently, these stock bottles had no markings of any kind. Since millions of these containers were used, it is virtually impossible — if the label is missing — to tell which of these bottles contained Clorox and which contained other products.
Glass bottles used by The Clorox Company after 1928 can be distinguished by various characteristics. The following tips and illustrations point out variations in style, markings, lettering, glass texture and handles, and together serve as a guide in determining the approximate vintage of the early Clorox bottles.
Cork Top Bottles
1929-1930
Clorox diamond trademark on bottom.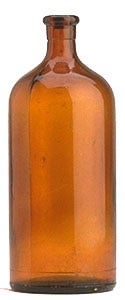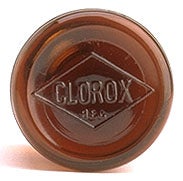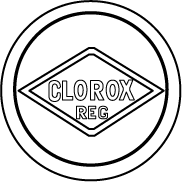 1931
Solid lettering on neck and shoulder.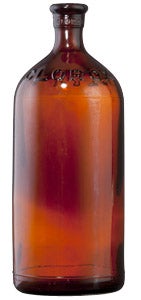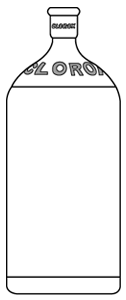 1932
Additional solid lettering on shoulder and heel.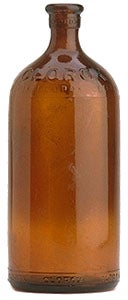 1933-1936
Content identification added. Additional solid lettering on shoulder and heel.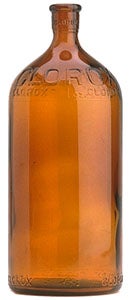 1937
Section of fill line raised under content identification.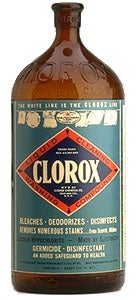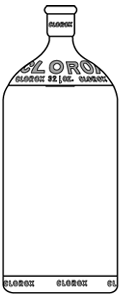 1938
Neck area widens to 3-4/16″ around.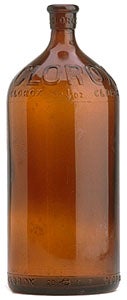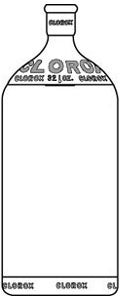 1939
Neck style changes. Introduction of half-gallon size with finger ring handle.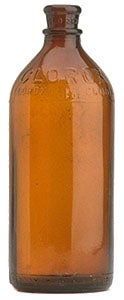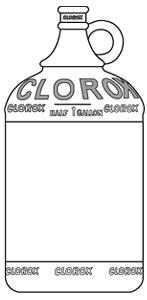 Screw-top Bottles
Beginning in 1940 The Clorox Company began making Clorox bottles with threaded necks for screw tops, replacing the rubber stopper cork tops of the earlier bottles.
Until 1951, the lettering on Clorox bottles continued to be raised and solid. Beginning in 1951 the lettering on Clorox bottles changes to outline.
Solid letters, used through 1950
1940-1942 Pint, Quart and Half Gallon Bottles
Content identification moves to side. Threaded neck appears. Pint and quart size mouths measure 2-7/16″ around.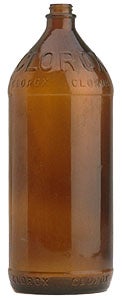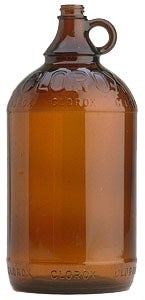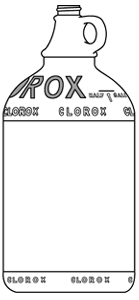 1943-1944 Pint, Quart and Half Gallon Bottles
Pint and quart size mouths increase to 2—12/16″ around.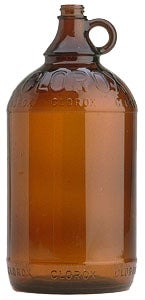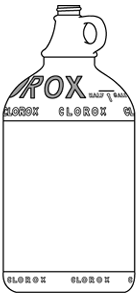 1945 Pint, Quart, Half Gallon and Gallon Bottles
Grained texture added on shoulder and heel. Introduction of gallon size with finger ring handle.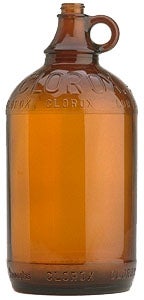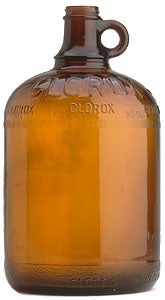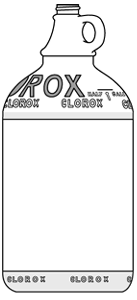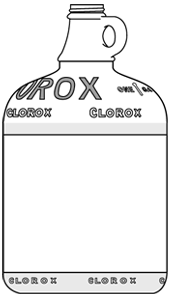 Outline letters, used 1951 to 1962
1951-1954 Pint, Quart, Half Gallon and Gallon Bottles
Solid lettering replaced by outline lettering. Grained texture extends down label panel.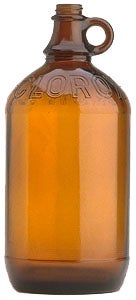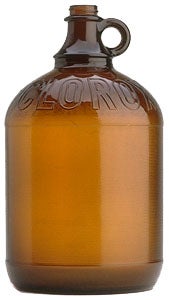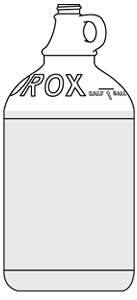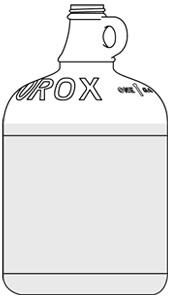 1955-1959 Pint, Quart, Half Gallon and Gallon Bottles
Side content identification replaced by raised fill line. Two-finger handle appears on gallon and half-gallon.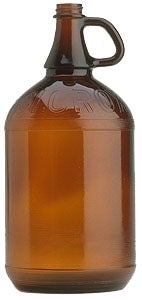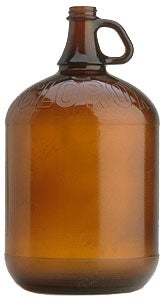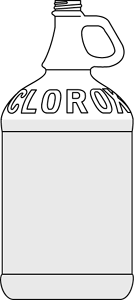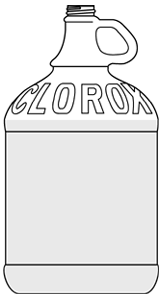 1958-1959 Pint and Quart Bottles
Grained texture on shoulder and heel only. Neck style changes.



1959-1962 Pint, Quart, Half Gallon, and Gallon Bottles
More streamlined bulb shaped neck area on pint and quart. Four finger handle on gallon and half-gallon.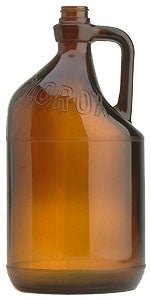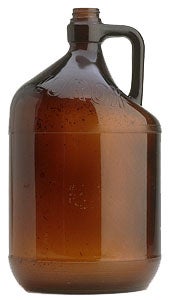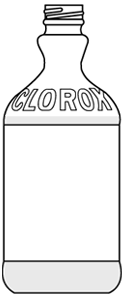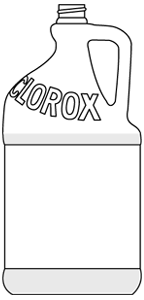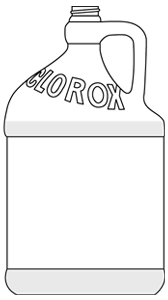 Odds and Ends
Through the years, other styles of Clorox bleach bottles were considered by The Clorox Company. None of these ever reached full national distribution because they failed to meet Clorox's exacting packaging standards.
However, some were distributed as test market or sample bottles. Consequently, collectors may occasionally come across a Clorox bottle not included in this guide.
Two of the most common odd Clorox bottles are the 1960 half-pint bottle and the 1957 quart bottle.
1960 half-pint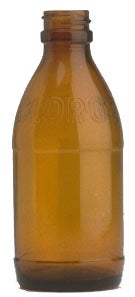 1957 quart