Supporting Public Health, One Wipe at a Time
By John Cogswell, manager – Corporate Communications
As businesses start to reopen, our Clorox brand has a new offering to help people feel safe — one-count packages of Clorox® Disinfecting Wipes.  
For more than 20 years, consumers have trusted Clorox wipes to disinfect surfaces, and never has that trust been more evident than in the past year as we ramped up production to support public health.
More people are now re-entering shared spaces outside of the home, and we're committed to helping them do so with enhanced safety and confidence. This includes offering them the products they trust in new ways to meet their changing expectations and behaviors around cleanliness and hygiene.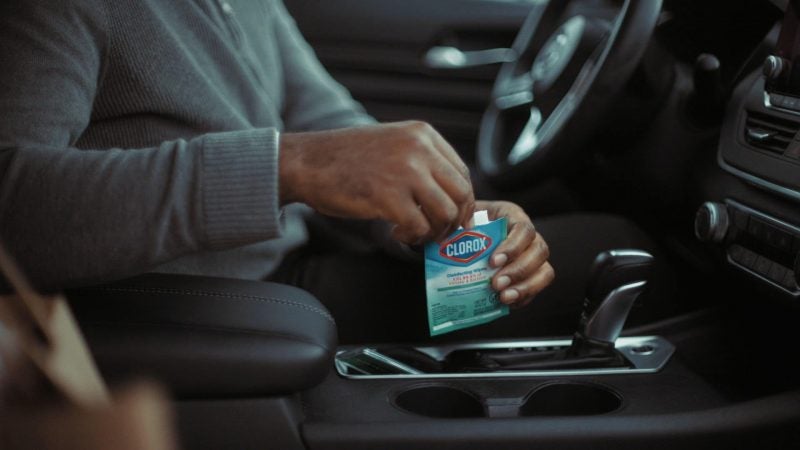 Introducing the one-count wipe
Our Clorox brand developed one-count packages of wipes to help businesses put the confidence of Clorox disinfection directly in the hands of their customers.
The wipes come in a convenient pouch, making them ideal for quickly disinfecting high-touch surfaces such as doorknobs, elevator buttons, tray tables, armrests and more.
"The one-count wipe allows people to experience our product in an environment outside of the home such as an airplane, rental car or hotel, among others" said Chris Klimas, senior director – Sales. "This gives them more control of that experience, which leads to more assurance and confidence during these trying times."
Already, the one-count wipes are helping businesses create safer shared spaces. 
Data from a car rental customer survey conducted by Enterprise Holdings in April 2020 found that nearly 80% of car rental customers surveyed would feel most comfortable renting a vehicle if they were given a disinfecting wipe to wipe down high-touch areas for themselves.
This insight inspired our collaboration as part of the Safer Today Alliance. Enterprise Holdings now offers a one-count Clorox Disinfecting Wipe in every vehicle rented through its brands to provide consumers with increased peace of mind.
And we're just getting started — the one-count wipes are now available on Amazon.
We look forward to bringing one-count wipes to more businesses and consumers as a reminder that one of the most trusted brands in cleaning and disinfecting is there to help make shared spaces safer both inside the home and beyond.
This is another way we're living our purpose of championing people to be well and thrive, every single day — one wipe at a time.