Steps to Healthy Lives: Keeping our workplace safe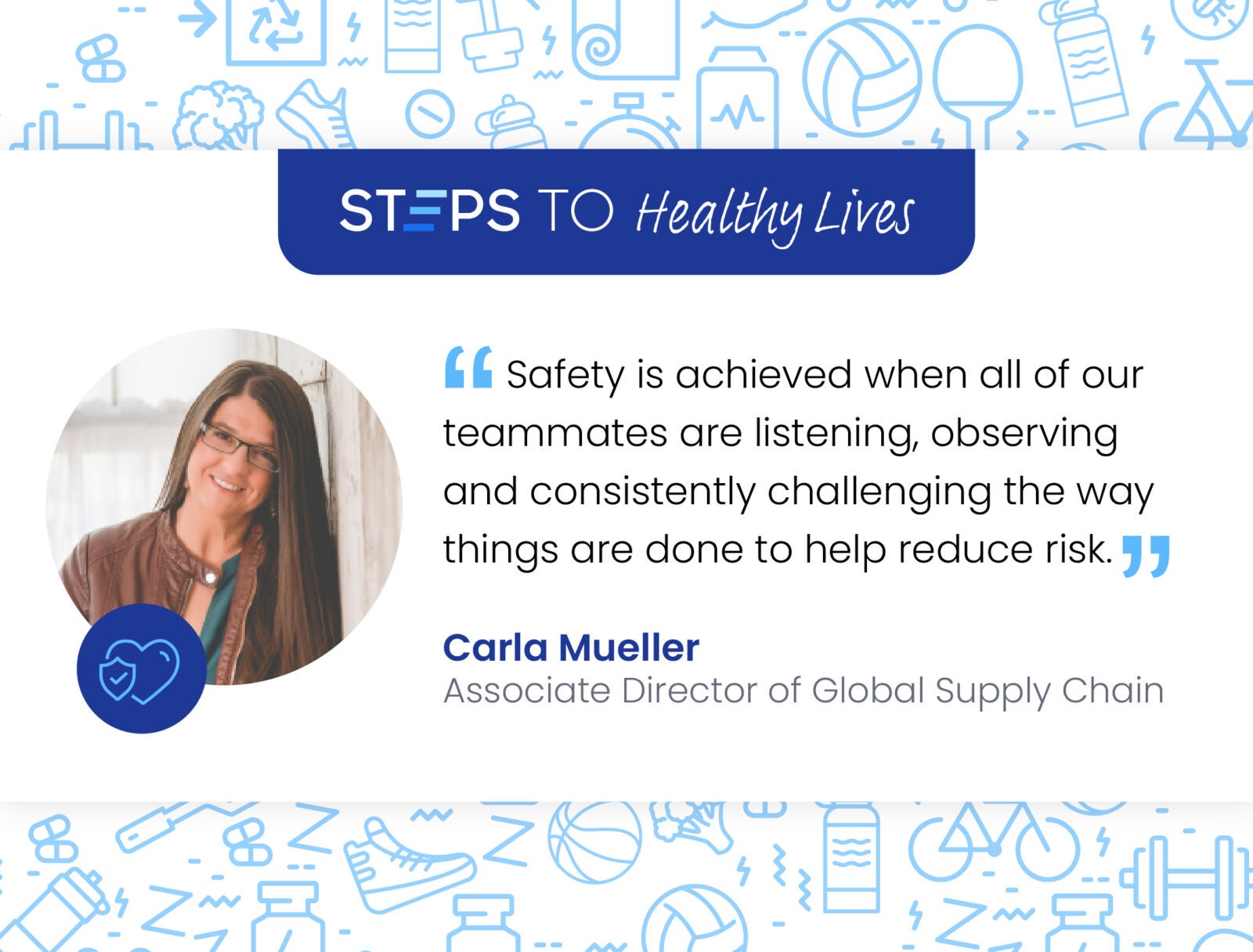 Clorox's ESG goals are integrated into our IGNITE strategy because we believe they drive growth and create positive value for our brands, people and communities. We've focused on where we can make the biggest impact – Clean World, Healthy Lives and Thriving Communities — and have 20 public-facing goals in these areas.   
In recognition of National Safety Month, this next installment of our "Steps to …" series focuses on the steps Clorox takes to foster the safest workplace possible for our teammates. We spoke with Carla Mueller, associate director of global supply chain, to learn more about Clorox's enterprise-wide safety management efforts.
Why is promoting safety in the workplace so important to Clorox?  
People are at the center of everything we do here at Clorox, which is why we strive to create a workplace culture that prioritizes our teammates' safety and well-being in our day-to-day operations.
Effective safety can't be achieved solely from the efforts of leaders or just one area of our business. It relies on everyone working to create a safer working environment together, using best practices rooted in the understanding that it's in all our best interests to protect one another. We want all of our teammates to have an active voice in how we evolve our operations — especially as it relates to safety — because that's how we'll continue to stay engaged, grow as a company and create the best products for our consumers around the world.
How does Clorox keep itself accountable for maintaining a safe work environment?
One way we stay accountable is by setting goals. Based on industry benchmarking by Clorox, we aim for a global recordable incident rate, or RIR, of 1.0 or less, as determined by the U.S. Department of Labor's Occupational Safety and Health Administration guidelines. Despite the increase in complexity, attrition and cumulative fatigue of the broader labor force, last fiscal year we surpassed our goal and reported an RIR of 0.56. This means that for every 100 full-time equivalent Clorox teammates globally (inclusive of remote workers), we averaged less than one reportable incident during the past year.
To us, safety is more than an annual metric. As we continue executing on our IGNITE strategy, we have a responsibility to keep raising the bar for safe working conditions for our 9,000 teammates, our contractors and suppliers, and our local communities around the world.
What are some of the ways Clorox implements and tracks safety efforts across its operations?
In addition to complying with government regulations around the world (namely EPA, OSHA and ANSI), we have systems and policies to help us identify, track, report and improve workplace issues and minimize hazardous conditions for all teammates — whether they're working in one of our plants, offices or research labs, or even at home.
To ensure all production teams are trained consistently and comprehensively, our Global Safety and Environmental team operates a monthly education program in the continental U.S., which we recently expanded internationally into four languages.
We encourage all of our teammates to identify, control or eliminate physical risk, and we reinforce this with internal safety audits conducted at all our facilities every two years. Additionally, our facilities have established rotating committees that meet periodically to identify safety risks and solutions unique to their shift and location to track real-time opportunities for improvement.
To support our hybrid workforce, we've put more emphasis on our ergonomic programs to help ensure our teammates working remotely are comfortable, have the proper equipment, and take breaks to ensure overall well-being.
How is Clorox using technological advances to innovate its safety policies and processes?
Our workplace safety systems consist of a strategic mix of digital tools, training modules, compliance programs and corporate emergency operations centers to coordinate and allocate resources in times of crisis.
As one example, our engineering team has installed safety devices for our existing machinery that provide alternative protection measures, ensure they're working properly and ultimately prevent teammates from getting hurt.
In our journey of continuous improvement, we're currently evaluating new technology to assist in behavior-based safety improvements at pilot sites within our organization. This new source of data will be used to help proactively identify incident trends and offer focused improvements in areas in which the potential for risk exists.
What are some examples of workplace safety best practices, training and/or resources you would encourage other organizations to adopt? 
Keep teammates accountable and communications open. Beyond establishing code of conduct policies and mandatory trainings, all organizations should work to create a culture of accountability and advocacy so that every teammate feels empowered to speak up when they see opportunities to make their work environment safer. Ensuring the channels of communication are open and that people feel comfortable bringing up safety concerns are key!
Celebrate safety wins. At Clorox, we launched the Clorox Cup to highlight teams that excelled in completing compliance tasks across the areas of safety, environmental, sustainability and security. Programs like this are a great way to showcase best practices so that other teams can get inspired and improve processes of their own.
Our ESG commitment is driven by our purpose to champion people to be well and thrive every single day. Learn more about our ESG goals here. Want to make a positive impact on the world? Learn about Clorox careers here.