Smashing Organizational Silos
By Tiffany Tan Kohler, Associate Director – Marketing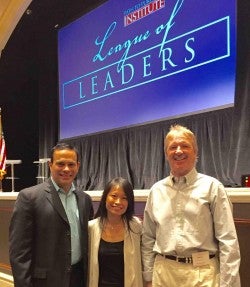 It's not every day that Clorox marketers are asked to speak about our organizational culture rather than a compelling marketing program, but that's exactly what we were invited to share at a recent industry meeting of CPG manufacturers and retailers called "League of Leaders" hosted by the Path to Purchase Institute in Las Vegas, Nevada.
As most large organizations, it is easy to become silo-ed and focused on our functional work.  For instance, at Clorox, we have pockets of shopper excellence sitting in various parts of the organization:  Insights, Category Management, National and Field Shopper Marketing.  Recognizing that customers, consumers and Clorox can benefit from bringing these teams together, we asked ourselves a question: "How might we leverage the expertise of every shopper function when developing a Clorox go-to-market plan?"  In other words, how could we smash silos?
Our answer lay in establishing a concept we called, very simply: One Shopper Team (OST).
This OST approach has become the bedrock for how our various shopper functions operate, and we shared some tips with the audience so they too could begin smashing silos within their own companies. These tips included:
Showcase the benefit. Out of the gate, it's important to not only show the benefit of collaboration to an organization but also to the individuals actually doing the work.  For example, when silos are smashed, work becomes tends to be easier – we do it faster, with better inputs and are more engaged.
Establish operating principles and commit! During our recent Clorox sales meeting, we brought our shopper teams together to pledge an oath to the principles and have since created an OST subteam dedicated to developing and institutionalizing the OST structure and culture.
Set a high bar for performance. Set one that is powerful enough to break the muscle memory of how work used to get done
Optimize the work process to facilitate collaboration. We now allow for "collaboration moments:" brief check-ins during projects where teams pause and connect with each other on the work. We also support broadening assignments that let others "walk a mile" in the shoes of another function to build appreciation for different points of view
We could tell from the head nods and Q&A after our session that this was an issue that resonated with many CPG manufacturers. Breaking down silos is a challenge in any organization but with dedicated effort and focus, we hope to continue raising the bar for ourselves and our peers.