Showcasing brand versatility: #TeamCloroxBleach vs. #TeamPineSol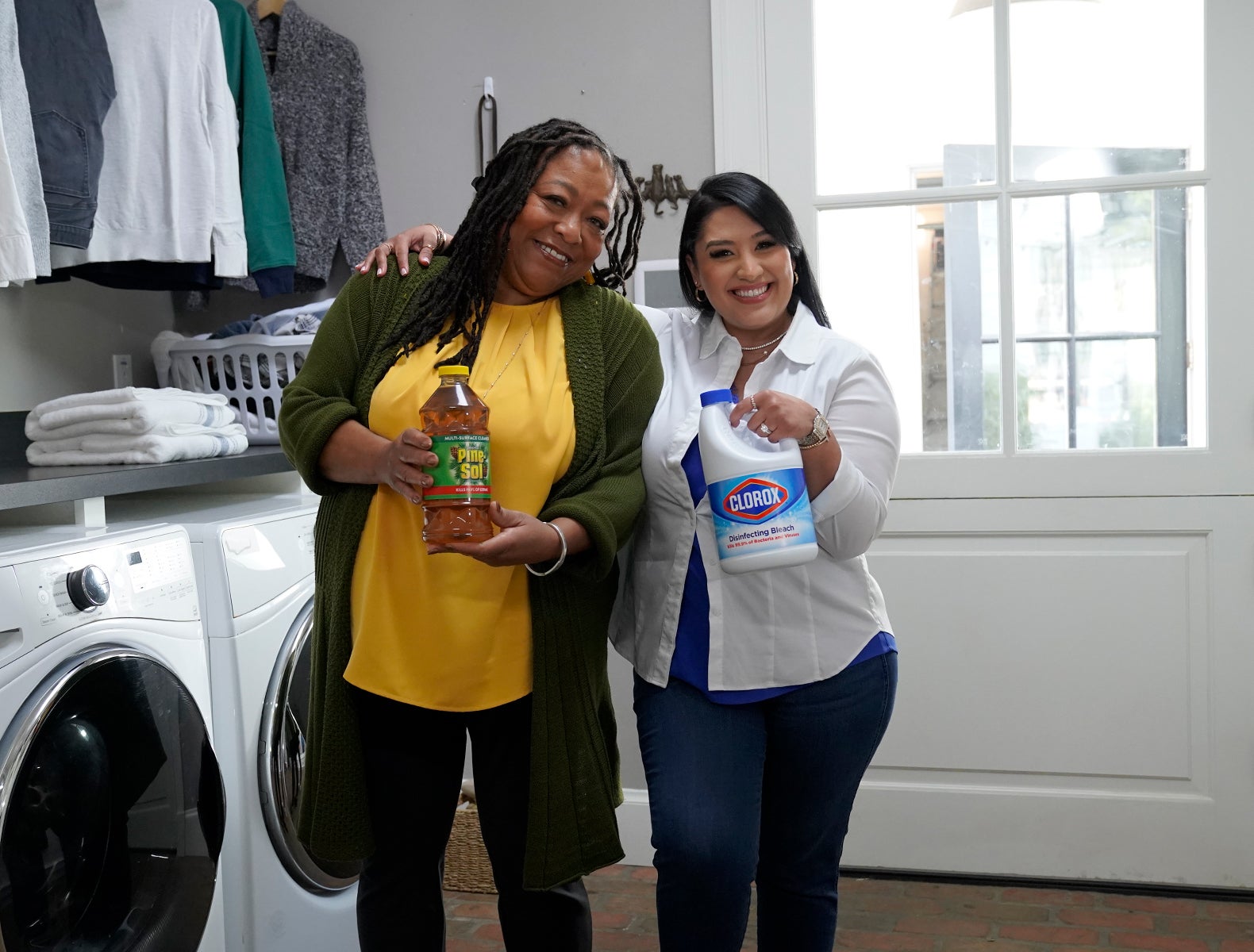 By Robin Santos, Associate Director, Brand Communications 
Clorox Disinfecting Bleach and Original Pine-Sol Multi-Surface Cleaner are trusted, longtime solutions that meet the cleaning and disinfecting needs of households across the U.S. But against a backdrop of rising prices and expanding price gaps with generics, they also need to fit the bill for cost-conscious consumers.
Enter two icons of the cleaning industry: 30-year Pine-Sol spokesperson Diane Amos and Clorox brand partner and TikTok star Vanesa Amaro. As part of a PR campaign we launched recently, we worked with them to create a light-hearted video with the women engaging in a back-and-forth exchange to highlight the versatility of these products. They each show how their product can be used throughout the home in a multitude of ways, sharing their best cleaning hacks and asking viewers to choose a side. In the end, they realize that with either product you win.
The duo attracted significant attention from consumers. The video was shared across Vanesa's and Clorox-owned social channels, generating nearly 600,000 combined impressions — the number of times a piece of content is consumed — to date. Additional cleaning hack videos featuring the two are currently running in paid media as well, just in time for spring cleaning.
The cleaning icons also were interviewed by multiple outlets, with coverage so far including Parade (syndicated to Yahoo! Life), El Diario NY (print), Home & Texture, Martha Stewart Living and Reader's Digest, which published separate articles on Vanesa and Diane. Collectively the coverage earned more than 165 million impressions, with more expected in the coming weeks.
The PR campaign showcasing the value and versatility of these products didn't end there. Our extensive influencer programming, including 16 pieces of organic content as well as two bonus videos from Clorox brand ambassador Jalen Noble, generated more than 5 million impressions to date. Four more influencers will post additional content through March to help maintain a steady drumbeat as we usher in spring cleaning and showcase even more ways to use Clorox Bleach and Pine-Sol. And for the first time ever, Clorox secured a branded mission integration with TikTok to highlight the value of the two products with an interactive filter. The mission ran the week of March 13, driving more than 866 creator videos and securing more than 34 million video views with the hashtag #MostValuableCleaners.
As more consumers seek valuable, versatile products to meet their cleaning and disinfecting needs, they can't go wrong joining #TeamCloroxBleach or #TeamPineSol.