Clorox family, college football team root for each other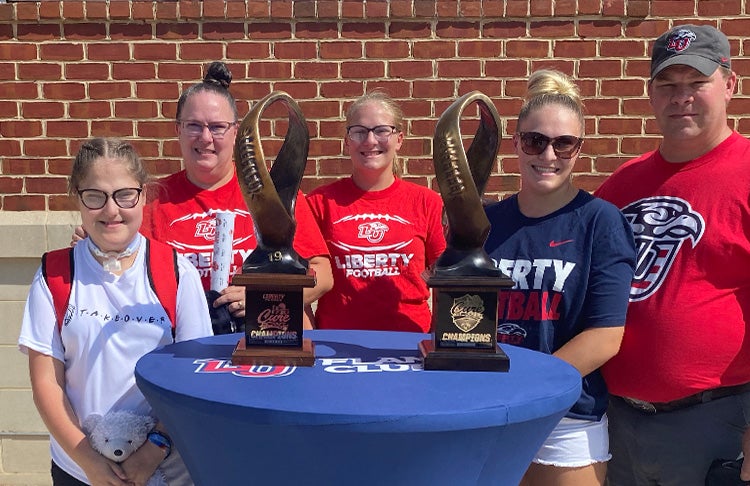 By Naomi Greer, Associate Director, Corporate Communications
ErinHope was born prematurely at 24 weeks, weighing only 1 pound 11 ounces. As a result, her airways never fully developed. A daughter of Jess Coleman, an engineer at our Glad plant in Amherst, Virginia, the now-15-year-old still struggles to speak but has found her voice in other important ways.
At first, it was the Liberty University football team that was a source of inspiration to ErinHope. The Colemans regularly attended home games and on one occasion participated in a meet-and-greet with players and coaches. A lefty, ErinHope connected with a player who was also left-handed. From that day, the family often joined post-game, on-field gatherings, and ErinHope would bring candy for the players and coaches.
During the pandemic, ErinHope looked for new ways to connect with the team. She came up with the idea of creating boxes with inspirational Bible verses on the outside and her signature candy inside. The family's contacts at the university would make sure the boxes got to the team, which would record the reactions of players and coaches as the boxes were opened.
When the team learned that ErinHope would undergo a series of surgeries to reconstruct her trachea, it was ErinHope who became the team's inspiration. A coach arranged for every member of the team to send her encouraging texts and well wishes before one of her major surgeries.
One of ErinHope's most enduring relationships has been with the quarterback, Malik Willis, who was just selected by the Tennessee Titans in the 2022 NFL draft. In its draft coverage, ESPN chronicled the relationship between ErinHope and the Liberty University football team.
Jess describes Malik as "a special, humble individual" who has been a huge encouragement to his daughter. He says the former Liberty quarterback has taken every opportunity to spend time with ErinHope even though he has a lot on his plate.
The team as a whole has taken up ErinHope's cause as well, according to her dad. Coaches and players see what she's been going through, and it puts their own issues into perspective. It helps them focus on more than just football, he says.
ErinHope helps her family put things into perspective too. Even after 22 surgeries in two years, Jess says, she always wakes up with a positive attitude.
Unfortunately, the challenges are not behind the Colemans, as ErinHope's first round of reconstructive surgeries were unsuccessful. So they will be back at Vanderbilt University Children's Hospital in June to try again. One of the benefits of the pandemic has been greater flexibility for remote work, so thanks to a supportive manager Jess will be able to work when he can during the two months his family is expected to remain in Nashville for the procedures and recovery. 
Coincidence that newly minted Tennessee Titans quarterback Malik Wallis ended up in the same city where ErinHope will have her surgeries? "God works in mysterious ways," says Jess.