Navin Kunde on How Clorox Embraces "Open Innovation" to Develop Breakthrough Ideas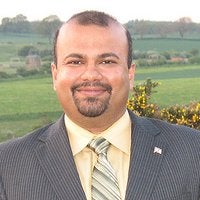 At Clorox, innovation is key to the company's 2020 Strategy. In fact, Clorox employs a team dedicated to discovering innovative ideas both internally and externally. Some team members act as ambassadors to outside firms, developing mutually-beneficial relationships with companies like Google.
Among the leaders of this discipline is Navin Kunde, Business Networks Leader for Clorox Research and Development's Open Innovation Networks. He has a Ph.D. in engineering that, 15 years ago, guided him to a position in industrial product development. After earning an MBA in general management, Kunde's work as a consultant for seven years gave him deep insight into how organizations function and, "how hard the tasks of innovation and growth can be for even the best companies," he says. It was an epiphany for Kunde. "I decided that if I truly wanted to have an impact, I needed to return to industry," he said. So Kunde joined Clorox in 2011 to be an open-innovation ambassador, connecting Clorox employees not only with coworkers in different departments but also with external experts whose experience and insight can help improve Clorox's products and processes.
We asked Navin a few questions about his role and open innovation at Clorox.
For practical purposes, what is the difference between 'innovation' and 'open innovation'? And what does a consumer package goods company like Clorox gain from open innovation?
Innovation is bringing a new product or service to market, whether it's completely new or an improvement to something already in existence. Open innovation is a term pioneered by Henry Chesbrough. It describes when a company chooses to make innovation happen using both internal and external sources for ideas and capabilities.
Clorox made a strategic decision over a decade ago to invest in open innovation as a true competency in order to enable more fruitful partnerships with the external world. This "innovation without borders" philosophy allows Clorox to compete more effectively against bigger and better-funded competitors by enabling innovation to happen faster and at lower cost.
Our Open Innovation Networks (OIN) team supports all Clorox business units, adjacencies, and functions. We enable better decisions by helping employees learn from the external world, and we help them execute more effectively by connecting them with the right suppliers and technology providers.
What do you do in your role?
Usually I work with internal executives and project teams, trying to understand their knowledge and capability gaps. My goal is to quickly connecting them to the appropriate external experts and partners.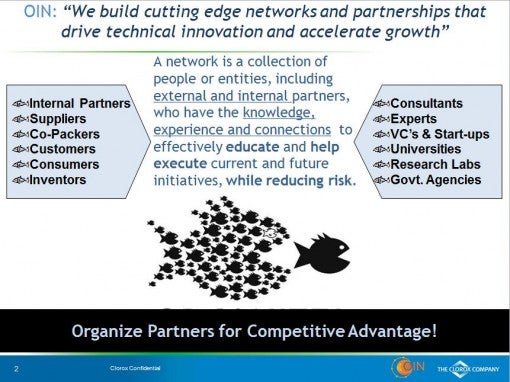 The focus on innovation within Clorox has resulted in initiatives such as Innovent and the Creative Coalition. What are these about?
Innovent is an idea competition run in our Research & Development department to encourage open innovation within our company. It allows Clorox employees in every function and geographic location to submit product and business ideas. The best ideas are voted forward through three stages, and teams get more and more resources to build their ideas as they progress through each stage. It all culminates in a presentation before the Clorox Executive Committee. Many of the ideas that reach the final stage are commercialized or incorporated into an existing business.
The Creative Coalition, run by Clorox's Global Insights department, is made up of "thought partners" who generate unique and rich ideas to meet our product innovation goals. These partners are sourced from a wide range of fields; they are screened for creativity, teamwork and articulation, and then trained on idea creation. The Creative Coalition allows Clorox to generate new high-quality ideas, product concepts, and functional and emotional needs—and do it on demand yet inexpensively.
Are there other programs or partnerships you're working on which relate to innovation, and which fit in with Clorox's 2020 Strategy?
Through OIN's expert networking capability, we're helping various executives and project teams charged with strategic growth initiatives Growth Accelerator initiatives to speak to outside experts and peers. We believe that these carefully curated conversations can reveal blind spots, and can take our people from months of guessing to hours of knowing as they strive to reach objectives. In turn, this helps Clorox move quickly and decisively towards its 2020 goals.
For example, we recently connected executives driving the 3D-Innovation Accelerator to peers who had worked at other major CPG companies on Innovation Governance – it is critical to get this right if we are to achieve our goals for growth from innovation. Our leaders were able to ask questions, test out hypotheses, and move forward decisively as a result of these frank discussions.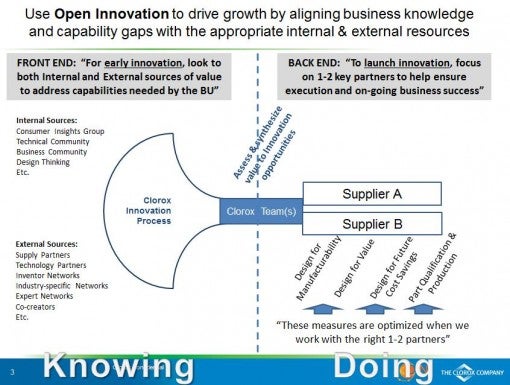 What do you enjoy doing in your spare time?
My wife is a writer and poet, and we have two daughters, ages five and two. We also have extended family in the Bay Area. So I spend a lot of my leisure time with family, whether it's going to the park for a bike ride, accompanying my kids to gymnastics or Bollywood dancing class, or playing golf with my in-laws.
Innovate With US! At Clorox, we hope to partner with those who have inventions that meet our needs.  For consumers, we hold a drawing every three months and award up to $1,000 to the best idea every 3 months. Visit our innovation webpage for more details.