National Safety Month: Redoubling efforts to protect our well-being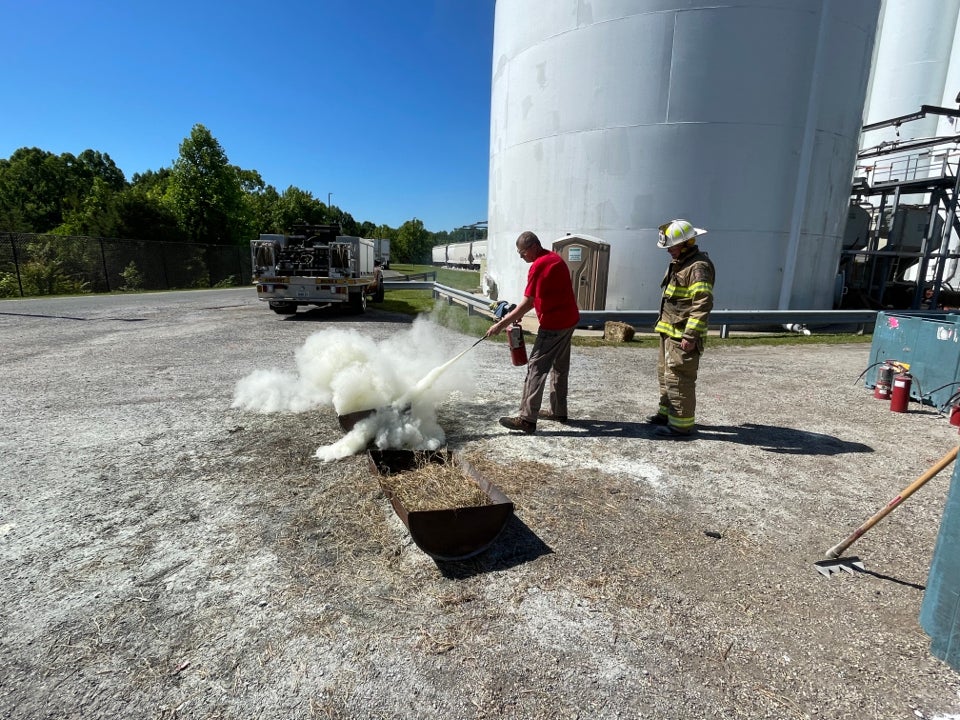 National Safety Month is an opportunity to recommit to keeping each other safe in the workplace — and anyplace. At Clorox, as employee safety has always been central to our values, we're observing June as we do every other month: by redoubling our efforts to protect our people's health and well-being.
Stretching for results at our wipes plant
A new stretching program was instituted at our Atlanta West facility to help our people stay flexible, strong and healthy, and lower their risk of injury. Posters have been hung up around the plant with stretches specifically designed for the job nearby. Teammates also stretch every morning during the plant's "Daily Direction Setting" meeting.
Empowering teammates as leaders in safety
A new process, also instituted at our Atlanta West wipes plant, is engaging production teammates to use an existing maintenance request system to highlight recommended safety improvements. If the relates to the safety of employees, teammates can make that selection. It will generate an automated email to the entire leadership team to raise awareness of the issue and execute a quick response and solution within 24 hours.
Preparing for emergency response
At our Glad plant in Amherst, Virginia, production teammate George Napier — who also happens to serve as chief of the Pedlar Volunteer Fire Department — took everyone through hands-on fire extinguisher training.
Our values-based, process-oriented approach to safety helped us achieve a fiscal year 2021 recordable incident rate well below our goal of 1.0 and the average 3.3 RIR for goods-producing manufacturing companies. With everyone's continued leadership, ownership and commitment to safety, our vision of a zero-incident workplace will become a reality.
Latest Safety Milestones
Belle, Missouri – 1 year since last recordable incident and 7 years since last lost time incident
Beryl, West Virginia – 1 year since last recordable and lost-time incident
Brampton, Ontario – 2 years since last recordable incident and 11 years since last lost-time incident (will be 12 July 10)
Burnside, Kentucky – 2 years since last recordable and lost-time incident
Caguas, Puerto Rico – 1 year since last recordable incident and 5 years since last lost time incident
Cartago, Costa Rica – 17 years since last recordable and lost-time incident
Conghua, China – 14 years since last recordable and lost-time incident
Dammam, Saudi Arabia – 37 years since last recordable and lost-time incident

Glen, Missouri – 2 years since last recordable incident and 15 years since last lost-time incident

Houston, Texas – 1 year since last recordable and lost-time incident

Jeddah, Saudi Arabia – 38 years since last recordable and lost-time incident

Lima, Peru – 2 years since last recordable and lost-time incident

Parañaque, Philippines – 7 years since last recordable and lost-time incident

Quilicura, Chile – 4 years since last recordable incident and 6 years since last lost-time incident

San Juan, Argentina – 1 year since last recordable and lost-time incident

Willowbrook, Illinois R&D – 4 years since last recordable incident and 23 years since last lost-time incident

Fairfield, California – 2 years since last lost-time incident

Morrisville, North Carolina – 1 year since last lost-time incident

Orangeville, Ontario – 3 years since last lost-time incident

Parsons, West Virginia – 3 years since last lost-time incident

Spring Hill, Kansas – 2 years since last lost-time incident