Innovation Drives Growth with AutoNation

By Brad Ferris, Brand Engagement Lead – CloroxPro
A lot of life happens in cars. In fact, American drivers spend an average of 294 hours — the equivalent of more than seven 40-hour work weeks — behind the wheel each year.[i] But did you know that vehicle interiors can house up to eight times as many germs as surfaces in a public restroom?[ii]
If thinking about all the germs that could be hitching a ride in your car is making you queasy, you're in luck: CloroxPro has joined forces with AutoNation to introduce a powerful new sanitizing service designed to enable cleaner, healthier, safer cars.
What it is:
CloroxPro has partnered with AutoNation, America's largest automotive retailer, to introduce Precision Care powered by Clorox® Total 360®, a revolutionary sanitizing system that uses patented electrostatic technology combined with Clorox products to kill 19 of the most common illness-causing germs.
Between commutes, carpools, road trips and errands, most people end up treating their cars like extensions of their living spaces — except when it comes to cleaning. A recent survey found that 44 percent of drivers clean the inside of their vehicle only once a year or less,[iii] and cleaning alone is often insufficient to kill germs.  
PrecisionCare powered by Clorox Total 360 is designed to easily reach and quickly kill illness-causing bacteria and viruses on all the frequently touched but rarely cleaned surfaces in vehicle interiors — from steering wheels, cup holders, gear shifts, dashboards and radios to seatbelts, car seats, door handles and more.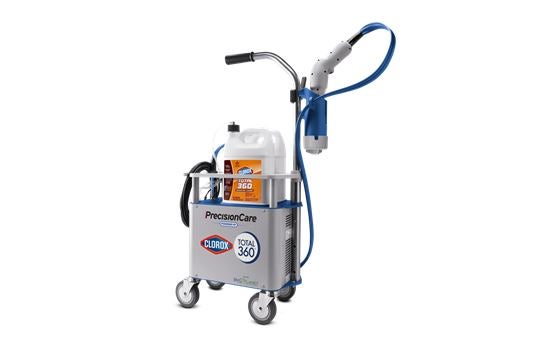 What it does:
Through the partnership, PrecisionCare powered by Clorox Total 360 will be available to customers at more than 240 AutoNation locations coast to coast. It will also be available to auto dealers, repair shops, rental car companies, professional fleets and livery services through AutoNation's Wholesale Parts Network, which provides both original equipment manufacturer and aftermarket solutions to its customers.
 Why it matters:
Innovation, partnership and bold, customer-first thinking is driving good growth by enabling good health.
 This partnership is exciting for a lot of reasons. It opens the door to a wide range of new audiences and potential customers by expanding our reach in the automotive space. It's also the first time our patented, electrostatic spray system will be available directly to consumers as a service. But perhaps most important, it enables good growth by delivering on CloroxPro's commitment to public health.
"As a business, we do well when we help people and communities live well, and the simple truth is that vehicles of all kinds can harbor lots of illness-causing germs," says Kyra Zeroll, director – Marketing, CloroxPro. "By partnering with AutoNation to introduce PrecisionCare powered by Clorox Total 360, we are bringing a practical, common sense solution to a previously unmet market need and helping people live better by reducing the burden of illness from germs in their environment."
Visit www.CloroxPro.com to learn more about the Clorox® Total 360® System and www.AutoNation.com to find an AutoNation location near you.
[i] Americans Spend an Average of 17,600 Minutes Driving Each Year. AAA Foundation for Traffic Safety Annual American Driving Survey. 8 Sept. 2016. Date accessed: 29 Nov. 2018. Retrieved from: https://newsroom.aaa.com/2016/09/americans-spend-average-17600-minutes-driving-year/.
[ii] Is your car making you sick? WKYC-TV, Cleveland. 15 Apr. 2014. Date accessed: 29 Nov. 2018. Retrieved from: https://www.usatoday.com/story/money/cars/2014/04/15/car-germs-making-you-sick/7755017/.
[iii] One-Third of Drivers Only Clean Their Car Once a Year [Survey]. CarRentals.com. Date accessed: 2 Feb. 2019. Retrieved from: https://www.carrentals.com/blog/driving-with-germs-study/.