Glad Celebrates 50 Years in Orangeville
By Peter Reynolds, Clorox Orangeville plant manager
It's been a sweet 50 years for the Glad brand in Canada.
I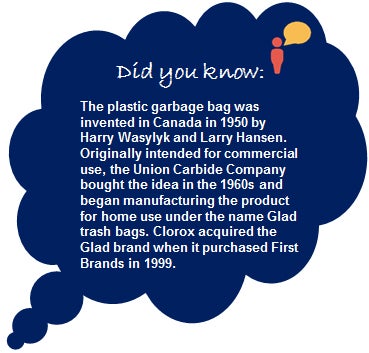 t's a unique milestone certainly in Ontario, if not Canada, for a manufacturing plant to stay operating this long. But it's more than just celebrating the fact that we've been around 50 years. This milestone is all about our people — the sense of pride they have in the workplace and in the products that they make.
While our plant has seen employees retire over the years, one thing has remained constant: their commitment to the Orangeville community. Our employees today and employees in the past take a lot of pride in the Glad name.
Beyond the economic impact of the 110 jobs at the plant, employees and the plant together have donated more than $168,000 to community organizations and causes over the past 10 years.
Making bags the right way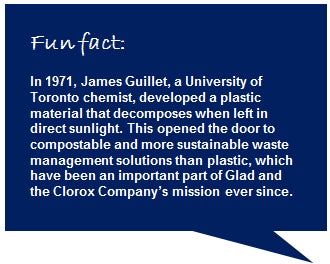 The Orangeville plant has won numerous safety and quality awards over its 50-year history manufacturing both indoor and outdoor garbage bags as well as cling wrap™ for the Canadian and U.S. markets.
The plant is also the sole supplier of Glad® compostable products across North America and one of three Clorox facilities with a zero-waste designation. As leaders in innovation around waste diversion, the Glad brand collaborates with municipalities to maximize their waste diversion goals.
We're not as big as our sister sites, we don't have economies of scale – so we have to be great at other things. We focus heavily on safety and quality. It's a differentiator for us.