Showing Our Heart with Workplace Giving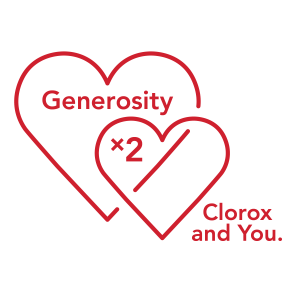 Clorox people show their heart year-round through GIFT, our employee giving program.
And The Clorox Company is proud to match their donations dollar-for-dollar, up to $2,500 annually, so they can double their impact on causes close to their hearts. With the match, employees gave nearly $5 million to more than 3,500 nonprofit organizations in 2018.
Almost half of eligible employees in the U.S. and Canada supported their local communities through the Clorox employee workplace giving program last year.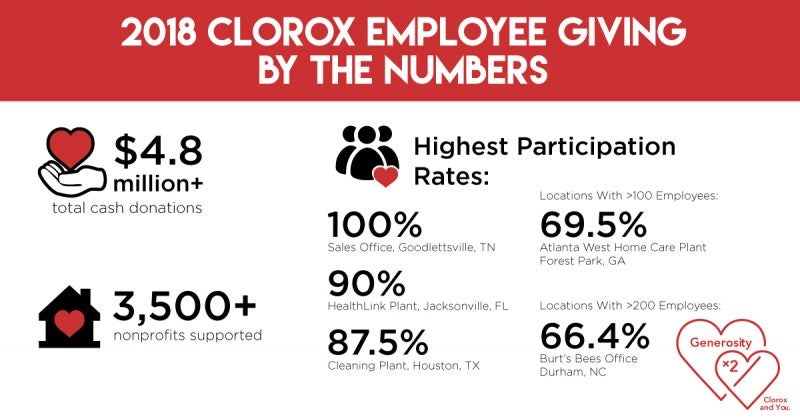 And we're optimistic about our future impact. Participation among new employees reached an all-time high of 55 percent — that's 20 percent higher than new employee participation levels just two years ago.
Contributions came from Clorox facilities across the U.S. and Canada — big and small, administrative offices and manufacturing plants.
The Clorox Company's GIFT Campaign runs year-round, allowing employees to donate to the qualified 501(c)(3) nonprofit organizations of their choice and receive matching funds. 
In addition to supporting employees through those matching grants, Clorox also offers up to $300 in charitable funds each year to employees who volunteer. That means for every volunteer hour the employee logs with Clorox, that employee receives $10 from Clorox to donate to the nonprofit of their choice (up to $300).
This is just one more way Clorox supports employee philanthropy and gives employees the power to support the causes that matter most to them.
And here are some glimpses of folks around Clorox promoting and celebrating our employee workplace giving program.