Clorox Peru Aids Flood Victims
By Clorox Peru Team
Torrential rains have pounded Peru this year, causing the worst flooding the country has seen in decades.
The northern and central coast areas have been hit hardest. More than 80 people have been killed and countless families have lost their homes and all their belongings. People have been cut off from much-needed aid and supplies.
As the largest bleach manufacturer in the world, The Clorox Company is in a unique position to help in such times of natural disaster.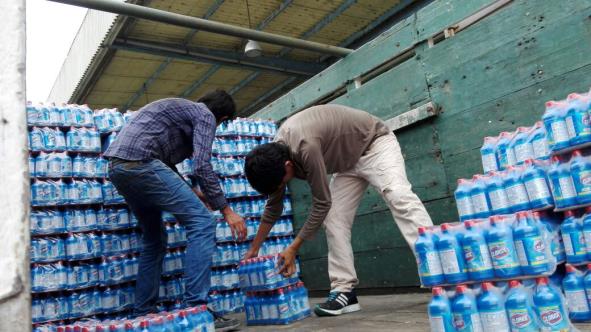 Clorox Peru, concerned about the victims and eager to help, decided to donate 45 tons — more than two truckloads — of Clorox® liquid bleach to help with disaster relief.
We donated 30 tons (60,000 lbs.) of bleach to the International Red Cross to be distributed in the cities of Huarmey, Casma and Chimbote.
We gave an additional 15 tons (30,000 lbs.) of bleach through the NGO Prisma, our partner for the Clorox Safe Water Project. This product was sent mainly to the 21 communities where the Clorox Safe Water Project has been helping provide access to safe water since 2012, and to nearby towns that are also affected by these floods.
Most of these regions were initially unreachable. We were only able to direct our relief supplies and bleach to them thanks to our existing relationship with PRISMA and the people there.
Our bleach has helped affected families access safe water and allowed them to prevent illnesses by disinfecting their houses.
Clorox employees have also supported flood victims by donating clothes, water and food. All these donations were taken to collection centers to be distributed among the neediest families in the most affected areas.
If you also want to make a difference in the lives of the Peru flood victims, donate to the International Federation of Red Cross today.