Clorox Healthcare Helps Customers "Rethink Bleach"
By Brad Ferris, associate director, PR – Clorox Healthcare
Clorox Healthcare has created the next generation bleach.

Clorox Healthcare® Fuzion™ Cleaner Disinfectant combines the proven disinfecting power of bleach with the aesthetics required for broad use throughout healthcare and other commercial facilities. It builds on our century-long foundation of health and wellness by broadening our bleach portfolio and will change how people think about bleach.
Our R&D team developed this groundbreaking new bleach technology. It's registered with the Environmental Protection Agency (EPA) to kill C. difficile spores in 2 minutes — the fastest kill time available[1] — as well as 35 other pathogens, including bacteria, viruses and fungi in just one minute. [2]
Kills fast, easy on surfaces
Fuzion™ is a pH-neutral, highly-effective form of bleach that won't damage common surfaces. Fuzion™ contains sodium hypochlorite and a neutralizer which, when combined, form a pH-neutral hypochlorous acid — a highly effective form of bleach. Once the 2-minute contact time is reached, the neutralizer breaks down the bleach solution into a very small amount of sodium chloride and water with minimal residue, eliminating the need for a rinsing step.
Healthcare facilities need the power of bleach to help keep patients safe from infections, and now they can use it without making tradeoffs.
With the introduction Fuzion™, Clorox Healthcare continues to lead the way in C. difficile solutions for acute care facilities and beyond.
Trusted bleach products such as Clorox Healthcare® Bleach Germicidal Wipes and Clorox Healthcare® Bleach Germicidal Cleaners kill a wide variety of bacteria and viruses, including MRSA and Norovirus, in 30 seconds to 1 minute, and C. difficile spores in as fast as 3 minutes.
Unlike bleach and water solutions, Clorox Healthcare® Bleach Germicidal products contain detergent, so they can clean and disinfect in just one step. Additionally, because they are ready to use and stable, they eliminate the labor costs associated with mixing and labeling bleach solutions.
For more information, visit www.CloroxHealthcare.com or follow @CloroxHealth on Twitter.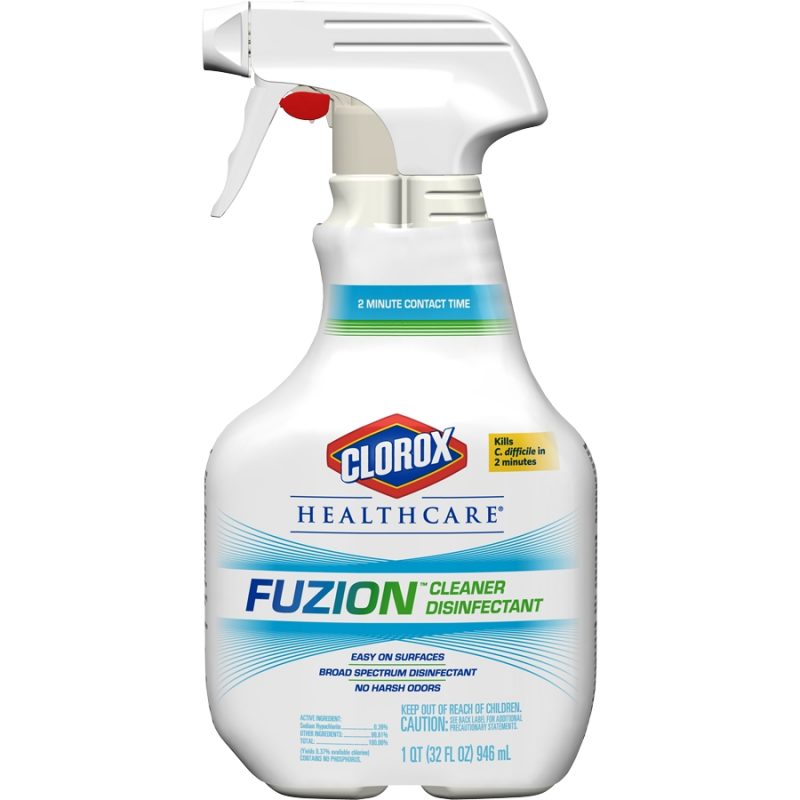 [1] Based on EPA Master Label Comparison as of 4/19/2016
[2] Based on EPA Master Label Comparison as of 4/19/2016