30 years of Clorox Partners Scholarships and counting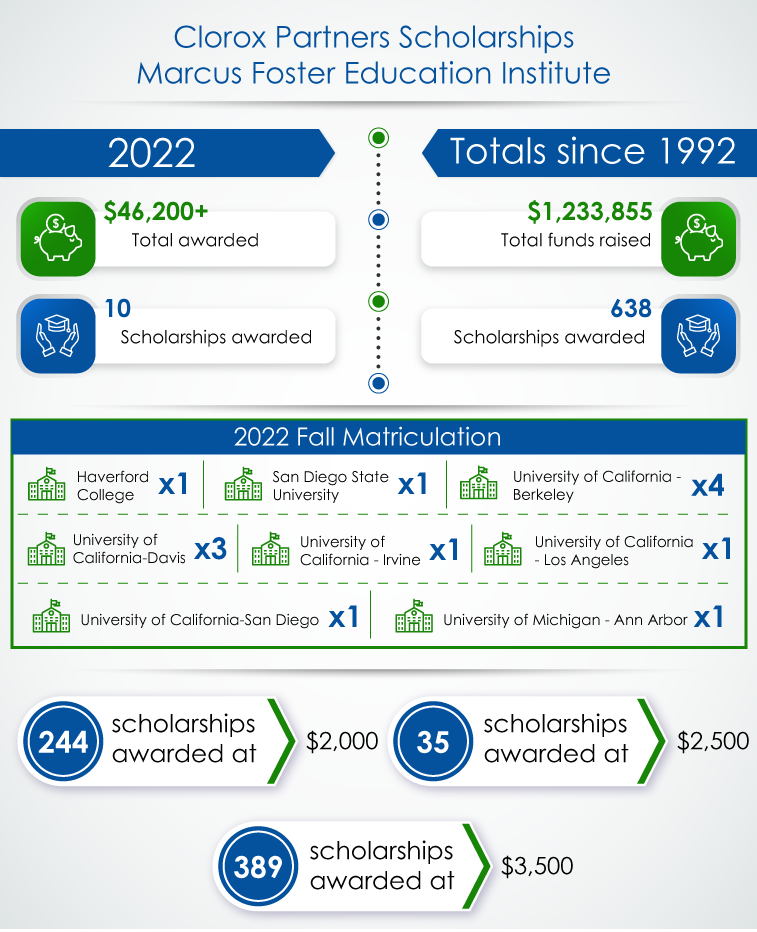 ​​​By Nichelle Rachal, Senior Manager of Community Relations
​What started as a Marketing function initiative in 1992 with a conference room bake sale that raised $600 for two scholarships has turned into a 30-year partnership with the Marcus Foster Education Institute and has grown to include all functions and nearly all Clorox locations.
This enthusiastic, creative and consistent support allowed The Clorox Company Foundation and the Marcus Foster Education Institute to create the Clorox Partners Scholarships.
With the support of Clorox team members, we have raised more than $1.2 million in addition to more than $700,000 from The Clorox Company Foundation, for a total of nearly $2 million. This investment has funded more than 600 Clorox Partners Scholarships for the most talented, deserving and capable students in Oakland and Pleasanton — where we have facilities in the San Francisco Bay Area of California — helping bring their dreams of a brighter future within reach.
The entirely employee-led support has grown from that first fundraiser to in-person silent and live auctions and product stores. The volunteer leadership team also created an online auction to reach Clorox teammates beyond the Bay Area.
To be eligible for these scholarships, students must attend a public school in either the Pleasanton or Oakland school district, have a cumulative GPA of 2.75 or higher and plan to attend a four-year college or university in the fall after high school graduation. These scholars should also be educationally motivated and embody the vision of Marcus Foster, the first Black superintendent of Oakland Public Schools and an education activist who believed that education requires the involvement of the whole community.
The mission of The Clorox Company Foundation is to foster healthy and inclusive communities so people can be well and thrive. Our continued support of the Clorox Partners Scholarships and the Marcus Foster Education Institute is one of the many ways we bring the mission to life.
Click here to learn more about Marcus Foster and why his legacy lives on through the institute.