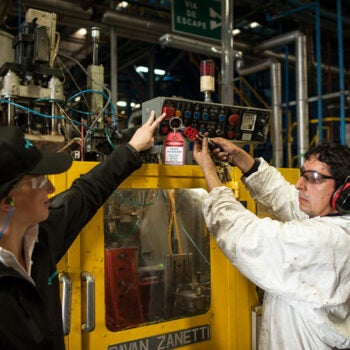 Advancing Sustainability Industry-Wide
We've been active in a number of industry forums to help improve standards for sustainable packaging and the use of recycled materials.
In 2019, Clorox became a signatory of the Ellen MacArthur Foundation's New Plastics Economy Global Commitment, which unites businesses, governments and others behind a clear vision of a circular economy for plastic in which it never becomes waste or pollution. In 2020 we became a founding member of the U.S. Plastics Pact to create a path forward toward a circular economy for plastic, a cross-sector approach of a circular economy for plastics, as outlined by the Ellen MacArthur Foundation's global Plastics Pact network, and in line with our company's plastic-related IGNITE ESG goals.
As a member of the Sustainable Packaging Coalition, we helped to bring standardized recycling labeling instructions to packaging. We've also been active participants in efforts by the American Society for Testing and Materials (ASTM) to develop and test biodegradable plastics.
Additionally, we have ongoing partnerships with major retailers in both the U.S. and Europe to promote more sustainable packaging. The work involves sharing data annually to measure it against their indexes assessing sustainability progress and meeting their requirements for sustainable ingredients. Through The Sustainability Consortium, a global nonprofit dedicated to using science to help consumer goods companies make their products better and more sustainable, we've provided industry leadership in the development of KPIs for these indexes. We're involved with in-store promotions highlighting the sustainability of our products as well.
To explore new product designs and commerce models based on a circular economy, Clorox disinfecting wipes and Glad food protection recyclable food bags joined TerraCycle's Loop pilot program in 2019. And in 2020 we also launched a Clorox cleaning concentrated spray refill pilot with a major retailer and launched a market test with Algramo to sell several products including Clorox Splash-less Cleaning Bleach and Pine-Sol Multi-Surface Cleaner at three refill station test sites in New York City.
We've also played an active role in the Beauty & Personal Care Leadership Group. This organization, established by leading national retailers with a broad-based membership that includes manufacturers, fragrance houses and NGOs, is working to influence the practices of the personal care industry to drive improvements in product sustainability.
Through these and other initiatives, we've made good progress. We are focused on sustainable innovation – innovation that starts with environmental, social or sustainability issues – and we will continue to search for new ways to decrease the net impacts of our products and packaging.