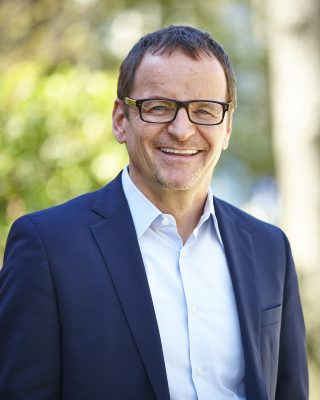 Benno Dorer
Chair and Chief Executive Officer
Benno Dorer was named chief executive officer of The Clorox Company in November 2014 and appointed chair of the board effective Aug. 15, 2016.
Before assuming this position, Dorer had served as executive vice president and chief operating officer – Cleaning, International and Corporate Strategy since January 2013. In this role, he was responsible for the laundry, home care, and international businesses as well as corporate strategy and growth.
Previously, Dorer served in numerous roles with the company. He was senior vice president – Cleaning Division and Canada; vice president and general manager – Cleaning Division, where he was responsible for U.S. retail for laundry (including Clorox® bleach, Clorox 2®) and home care (including Clorox® disinfecting wipes, Pine-Sol® cleaners, Formula 409® and Tilex® cleaners and other home care products) as well as the Brita® and Green Works® businesses; and vice president and general manager – Household Division, where was responsible for the U.S. retail Fresh Step® and Scoop Away® cat litter brands and the Glad® and GladWare® brands. He joined Clorox in 2005 as vice president and general manager – Glad® Products.
Before joining Clorox, Dorer worked for 14 years at Procter & Gamble, where he led the marketing organization for the Glad® Products joint venture since its inception and worked in various other marketing positions across a range of categories and countries, including laundry, home care, beauty care and paper products, in the United States and worldwide.
He currently serves on the board of directors of VF Corporation and as vice chair of the board of the Consumer Brands Association.
Dorer holds a degree in economics from University of Freiburg in Germany and a graduate degree in business administration (Diplom-Kaufmann) from Saarland University, also in Germany. A German native, he is multilingual and has lived in Germany, Scandinavia and Belgium.