Products and Packaging
Sustainability in our Products and Packaging
When we formulate and manufacture our products, we keep you and our planet in mind. We strive to use ingredients and packaging materials that are more sustainable, including materials that are recyclable and compostable while delivering high-quality products that make everyday life better every day for our consumers around the world.
When it comes to the amount of materials that go into our products and packaging, we believe that less is more. We continually try to find ways to reduce the overall volume of materials we use so to minimize waste that ends up in landfills. Today, 90 percent of our U.S. product cartons are made from 100 percent recycled content and most of our U.S. retail display materials are made from 100 percent post-consumer waste. More than 85 percent of the packages that house our products are recyclable. In addition, we make sure our products are assessed for potential impacts to the environment, looking at things like biodegradation and bioaccumulation as well as impacts on septic systems, aquatic life, birds, and other wildlife.
Importantly, we're continually measuring our progress. Our sustainability strategy includes our goal to make sustainability improvements to 50 perfect of our global product portfolio by 2020. All of our business units are held accountable for delivering annual sustainability commitments and our teams are proud to do so. Our sustainability efforts are good for business too, contributing to sales, cost savings and employee engagement.
Product and Packaging Goals
By 2020, we seek to:
Make sustainability improvements to 50 percent of our global product portfolio
Ensure more than 90 percent of all our products in recyclable primary packaging
Include recycling instructions on all our U.S. retail packaging
Use only recycled or certified virgin fiber in packaging
Eliminate PVC in all packaging
We're among the leaders in developing standards for sustainable packaging and the use of recycled materials. Clorox is an active member of the Sustainable Packaging Coalition and Wal-Mart's Sustainable Value Packaging Network, and the Glad Research and Development team participates in the American Society for Testing and Materials' efforts to develop and test biodegradable plastics.
We've made good progress, and we will continue to search for innovative ways to further reduce the environmental impact of our packaging and in-store collateral materials.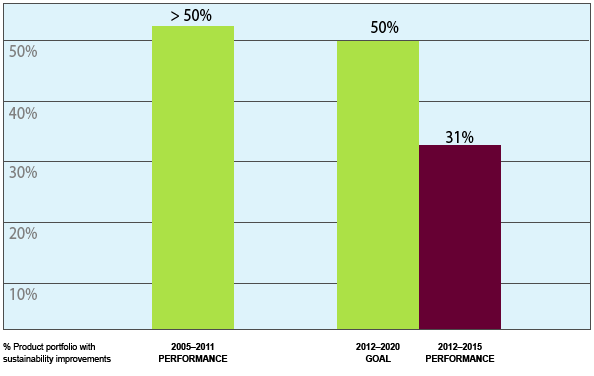 To ensure we meet our goal of making sustainability improvements to 50 percent of our product portfolio by 2020, our business units are given annual sustainability commitments that they are held accountable to, with overall coordination of this effort managed by our Eco Office.
Product and Packaging Highlights
In order to meet our product sustainability goals means ongoing redesign of our products and packaging to reduce or enhance the sustainability profile of materials we use.
It might surprise you that the lifecycle of Clorox® bleach, one of the world's most effective and inexpensive disinfectants, starts and ends with sodium chloride, common table salt. Brita® filters provide great-tasting water without the plastic waste from bottled water. Glad® trash bags are made in a way that uses five million pounds less plastic per year compared to our former trash bags. The Burt's Bees® brand sets a high bar in natural personal care. The Kingsford® business is an industry leader in environmental controls and sustainability for charcoal manufacturing, and has been successful in reducing the amount of materials that go into our briquets while improving product quality.
Brita
Great-Tasting Brita® Water: It's Good for the Planet
A single Brita® pitcher and filter (1 pound of plastic) can replace 300 standard 16.9 ounce containers of bottled water (15 pounds of plastic), thus saving energy and the use of petrochemicals to make plastic. And that doesn't include the fuel needed to transport bottled water from plant to store and from store to homes.*
At FilterForGood.com, consumers can pledge to switch to reusable water bottles filled with home-filtered water. Making the pledge takes only seconds, but can have a long-term effect on the earth by helping to reduce the more than 60 million plastic water bottles thrown away every day in the United States.
And unfortunately, about three quarters of all plastic water bottles are not recycled, finding their way to landfills. Using one Brita filter also helps keep more than 200 plastic bottles out of our landfills.
Switching to reusable water bottles and home-filtered water is good for consumers' wallets, too. The average Brita® pitcher filters 240 gallons of water a year for about 19 cents a day. To get the same amount of water from water bottles would require 1,818 16.9-ounce water bottles a year. At an average cost of a dollar a bottle, that's $4.98 a day.
Since January 2009, consumers have been able to recycle Brita® water pitcher filters through a program with Preserve®, the leading maker of 100 percent recycled household consumer goods.
Preserve® offers an environmentally friendly recycling infrastructure for No. 5 polypropylene plastic, a primary material in Brita® pitcher filters, through its Gimme 5 recycling and reuse program.
Preserve® collects the filters to use in its line of eco-friendly, 100 percent recyclable personal care, tableware and kitchen products. Preserve® products made in part from Brita® filters are available at leading retailers, allowing consumers to purchase new sustainable products they helped create.
Preserve® is a registered trademark of Recycline, Inc.
*Source: www.filterforgood.com. Each filter produces 40 gallons of water and the average Brita owner uses 6 filters in a year to produce 240 gallons, or 30,720 ounces, of fresh-filtered water. 30,720 ounces is equivalent to the water found in 1,818 16.9-ounce water bottles.
Burt's Bees
The Buzz About Burt's Bees
As the leading natural personal care brand in the U.S., and a growing one in more than 50 countries worldwide, Burt's Bees® has been offering natural health and beauty care products for over 30 years. Founded by a beekeeper and an artist, Burt's Bees believes in the beauty and power of nature. The brand makes over 150 products to help care for the body from head to toe, including lip care, lip color, face care, body care, baby care, outdoor and men's grooming.
For Burt's Bees, managing and growing our business for The Greater Good® means keeping our focus on natural products and sustainable business practices. To help us to fulfill this purpose, we approach sustainability holistically and have set wide-ranging goals to achieve by 2020. These goals focus on the products we make, how we operate, and how we give back. We have already achieved certain goals, such as maintaining 99 percent natural formulas on average across the portfolio, sending no waste to landfill, and being carbon neutral. Other goals are still in progress, including our efforts to:
Increase the post-consumer recycled content and recyclability of our packaging while reducing total materials used.
Bring greater transparency and traceability into our raw material supply chain.
Reduce our energy and water footprint.
To learn more about our commitments and goals, see our 2016 Sustainability Goals Update or our 2012 Sustainability Report.
Burt's Bees Packaging
When designing packaging, we strive to use the highest levels of post-consumer recycled, or PCR, content possible and seek to make our packaging as recyclable as possible. Overall, the primary containers for our products average 34 percent PCR content, which is more than double a home and personal care industry benchmark. Our plastic bottles average 71 percent PCR content. As examples, our Burt's Bees Baby Lotion comes in a bottle made of 97 percent PCR plastic, and our lipstick packaging is made from 60 percent PCR plastic. At the same time, 89 percent of our primary packaging is made with recyclable materials.
Here are a few other achievements:
Converted our iconic yellow lip balm tubes to 50 percent PCR
Reduced packaging on many products
Achieved a 6.5 percent reduction in the waste we send to our waste-to-energy provider by switching to recyclable label backing.
Established an Extended Producer Responsibility Take Back Program for most of our lip products called Recycle on Us
Burt's Bees Responsible Sourcing
From beeswax to baobab, clary sage to shea butter, we've made it our mission to source our ingredients responsibly. Our passion for quality leads us all over the world — and no matter where we go, we respect the communities, individuals and environments from which we source.
In 2010, we enhanced our responsible sourcing commitment to bring greater transparency and traceability across our supply chain and developed a methodology to evaluate ingredients based on factors such as location, quality, availability, social and environment. We have a 2020 goal to trace, evaluate and monitor priority raw materials and have visited 51 sites in 13 countries to assess the growing, harvesting and processing for our ingredients.
In 2015, we introduced Community Sourced, an initiative focused on identifying ingredients fundamental to many of our formulas, selecting key regions where those ingredients are produced, and forming strong, mutually beneficial partnerships with communities in these regions. Going beyond our own operations, we have begun to integrate contract manufacturers into our responsible sourcing metrics.
Environmental Sustainability of Operations
At Burt's Bees, we don't just care about what we make. We also care how we make it. Burt's Bees has been certified by Natural Capital Partners as a carbon neutral business unit of The Clorox Company since 2014. To accomplish that, we measure our Scope 1, 2 and 3 GHG emissions and offset them through the purchase of verified emissions reductions, also known as carbon offsets. We have also sent no waste to landfill from our domestic operations since 2010. In addition, we are constantly looking for opportunities to reduce our energy and water footprint and have committed to purchasing water restoration certificates through Bonneville Environmental Foundation, generating revenue to restore watersheds in the western United States.
Giving Back
In 2007, we established The Burt's Bees Greater Good Foundation, a 501(c)(3) nonprofit organization dedicated to sustaining charitable, grassroots initiatives that support human and honeybee health.
Since its inception, The Burt's Bees Foundation has issued over $2.4 million in grants. In 2015, the foundation donated more than $330,000 to nonprofit organizations.
Over the years, the foundation has supported pollinator health in a variety of ways, issuing over 250 grants for programs spanning research, education and conservation.
Our recent focus has been on establishing nutritious pollinator forage. In 2016, Burt's Bees launched the Bring Back The Bees program, partnering with Rural Advancement Foundation International, or RAFI, and public conservation and farm service agencies. Together, we'll plant wildflowers alongside farmland to provide pollinators with nourishing forage. We've already planted over 1 billion seeds!
Clorox
Salt of the Earth
If clean has a smell, it's the iconic scent of bleach. Its barely detectable aroma announces the towel is ready to use. Its lingering scent on a white robe offers assurance you can wrap yourself in.
With so much power in one bottle of bleach, some worry about its environmental impact. But the simple fact is: Bleach starts as salt and water and ends as salt and water. Household bleach contains no free chlorine, and it essentially breaks down into salt and water during or quickly after use.
In 2011, Clorox completed its transition of all U.S. bleach manufacturing operations from using chlorine to high-strength bleach as a raw material. The transportation of chlorine has now been eliminated from our end-to-end U.S. supply chain. High-strength bleach is a water-based solution of concentrated sodium hypochlorite that we dilute down to specific levels for household and industry use. This decision was driven by our commitment to strengthen our operations and add another layer of security to our operations.
In 2012, we converted our namesake Clorox Bleach product to a 33 percent more concentrated formula. This has helped reduce the overall carbon footprint associated with the lifecycle consumption of bleach. The end product is a more convenient consumer product that is also better for the environment.
The Bleach Cycle
The bleach cycle – from production to household use to disposal down the drain – is simple. It begins and ends with sodium chloride, common table salt. We call it the salt-to-salt cycle.
Clorox® regular bleach production: A 6.0 percent solution of sodium hypochlorite is combined with water.
Product use: Clorox® regular bleach, registered with the EPA as a disinfectant, reacts with soils and stains, making them easy to remove, and helps kill 99.99 percent of bacteria and viruses. The result is improved cleaning and whitening and quick, effective and economical disinfecting.
Return to salt: After household use, when disposed of down the drain, 95 percent to 98 percent of household bleach rapidly breaks down into salt and water. The remaining by-products are largely removed through the wastewater treatment process of most cities and water districts. No dioxins are formed. No by-products with the ability to build up over time in organisms are formed.
A Heritage of Safeguarding Health
Since it was introduced in 1913, Clorox® regular bleach has had a long history of use in places where killing germs is critical: in hospitals, nursing homes, child-care centers, schools and restaurants. During World War I, in the days before penicillin, the lives of wounded soldiers were saved by the antibacterial properties of bleach. In the 1960s, when the first Apollo flights were heading into space, NASA used Clorox® brand bleach to decontaminate the capsules returning from orbit.
Confidence in the efficacy and impact of disinfecting bleach is why the world's leading public health agencies – the World Health Organization and the Centers for Disease Control and Prevention – recommend the use of bleach for controlling the spread of pathogens that can cause infections and other health threats.
Bleach is one of the most widely available, affordable disinfectants on earth, and the role it plays in public health continues to be critical.
Bleach in school kitchens: As part of a healthy routine in school kitchens, the School Food Safety Network recommends the use of bleach for food-contact surface preparation areas to help reduce the potential for cross-contamination of food and the spread of Salmonella, E. coli and other bacteria that can make kids sick.
Bleach usage for hospital-acquired infections: Each year, an estimated 1.7 million Americans contract infections while hospitalized. As many as 90,000 die. To help combat the problem, Clorox has partnered with the Association of Professionals in Infection Control on Protect Our Patients, a program to raise awareness of the steps hospital staff, patients and families can take to help protect patients in the hospital and at home. Hand washing is critical; so is disinfecting surfaces to help prevent the spread of hospital-acquired infections and other illnesses.
Lending a hand: The Clorox Company Foundation has been donating Clorox® regular bleach to help purify water during times of disaster.
Glad
Working to Create More Eco-Friendly Trash Bags
For decades, the Glad® brand has been fighting waste with strong, reliable trash bags. Now, the brand aims to minimize waste further, with an exciting shift in strategy that will position the brand at the forefront of effective and responsible waste management solutions. The brand's plans include finding new ways to use even less plastic in bags with technology that makes them even stronger.
Through new technology, the Glad® brand is removing 6.5 percent of the plastic required to create its base trash bags, which is the equivalent of 140 million fewer trash bags per year. The brand also has plans to reduce the amount of source material used for product packaging.
The Glad® brand will look to play an active role in providing information, education and access to waste-less programs across the country. To this end, it is committing to progress against the three R's:
Reduce: The Glad® brand is finding innovative ways to maintain quality while reducing both the environmental resources (energy, water and oil) that go into making bags and the plastic that comes out of the manufacturing process. This includes encouraging consumers to reduce their waste.
Recycle: The Glad® brand is on the leading edge of developing bags for recycling and composting. As communities commit to new programs, the brand will make bags available in local stores. The brand also provides education on recycling and continues its 26-year partnership with Keep America Beautiful, a nonprofit organization focused on making America's communities cleaner, greener and more livable.
Reuse: One person's waste can be another's treasure. The brand continues to sponsor annual events that promote the reuse of toys for kids in need, winter coats for those without, and electronics for families after disasters such as fires or floods.
The Glad Manufacturing Company reuses nearly all rejected product or scrap plastic, and what it cannot use is sent to a third party for recycling. We also help save energy and waste by including "wide-spec" resin (the "raw" form of plastic) in Glad® trash bags, which might otherwise have to be reworked or scrapped by resin suppliers. In recent years, we have reduced packaging material for 32 Glad® trash bag product items by an average of 45 percent, resulting in a significant reduction in the use of paper board and improved freight efficiency.
The Glad Compostable bags available in Canada are completely biodegradable. These bags address sustainability on two fronts. First, they are 100-percent compostable, meaning they disintegrate rapidly into compost that supports plant life. Second, the bags are made from annually renewable plant resources.
Green Works®
Green Works® Cleaners: It Works, Naturally
For generations, the Clorox name has been associated with products that get the job done. So when we decided to create a naturally-derived line of cleaning products, we wanted them to work, naturally.
It wasn't easy. Without an industry standard for what "natural" means, we developed our own tough tests and, in the process, developed Green Works®cleaning products that work as well as conventional cleaners on most soils. At least 95 percent of ingredients in Green Works® products come from natural sources like coconuts and lemons. The cleaning ingredients in Green Works® products are biodegradable, formulated to be nonallergenic, not tested on animals and packaged in bottles that can be recycled.
Green Works® products are recognized by the U.S. EPA's Safer Choice* Program for using safer chemistry.
*The U.S. Environmental Protection Agency (EPA) Safer Choice Program is intended to reduce risk to people and the environment by preventing pollution. Review teams screen the ingredients in products (household cleaners are one of many different categories) to make sure that they pose the least concern among chemicals in their class. The Safer Choice logo on a product is short hand to say the ingredients inside are safer for families and the environment.
Kingsford
A Leader in Responsible Charcoal Manufacturing
The Kingsford Manufacturing Company has supplied consumers with high-quality charcoal products since the 1950s. Over the years, we've taken many steps to ensure we operate in an environmentally responsible manner. Today, Kingsford® charcoal is the leading U.S. charcoal brand, and we're an industry leader in environmental controls and sustainability for charcoal manufacturing.
We use state-of-the-art air-emission controls for our wood-charring operation. We also use dust collectors and equipment systems such as enclosed conveyors and storage tanks to minimize emissions.
We reuse the energy created during the wood-charring process. This energy is used in the form of heat to dry the waste wood and finished charcoal briquets, as well as to power steam generators used for other manufacturing operations. We also recycle recovered dust and briquets broken during manufacturing. Process water is contained and reused in the manufacturing operation.
Kingsford® charcoal manufacturing facilities purchase waste wood for charcoal production from area wood products businesses, thereby diverting it from the waste stream.In addition, we do extensive personnel training in environmental compliance, and have a dedicated environmental team that meets frequently to provide compliance leadership.
And environmentally conscious consumers wondering whether it's better to use charcoal or gas when grilling can feel good about using Kingsford® charcoal products. The ingredients in our charcoal briquets come primarily from renewable sources. When you use a gas grill, on the other hand, you're using nonrenewable fossil fuels that can't be replaced.
The breakthrough technology of Kingsford® charcoal with SureFire Grooves® reduces the amount of raw materials necessary to make a charcoal briquet, while delivering a product performance improvement — a briquet that is ready faster and lasts longer than the original product.
Natural
Green Works® Natural Cleaners

Learn more about Green Works® Natural Cleaners product line.

Burt's Bees® Natural Personal Care

Learn more about Burt's Bees® Natural Personal Care product line.

Fresh Step® Natural Cat Litter

Fresh Step® Natural Cat Litter was introduced in 2010. This clay-based product is made with over 99% natural ingredients and provides both superior odor-control and clumping strength when compared to other natural litter brands.
Packaging
At Clorox, we're constantly seeking sustainable solutions for product packaging, while delivering superior products that meet consumer needs. We focus on the redesign and lightweighting of our packaging, decreasing the amount of plastic resin and increasing the amount of recycled content used in our packaging and enabling the packaging to be recycled. We do this without compromising the effectiveness or usability of the product.
Some of our packaging success stories are:
Today, 90% of our U.S. product cartons are made from 100% recycled content (minimum 35% post-consumer content and the remainder is reused scraps and waste)
More than 85% of the packages that house our products are recyclable.
Most of our U.S. retail display materials are made from 100% post-consumer waste.
By reducing the amount of HDPE resin, the "raw" form of plastic used in Clorox® regular bleach and our household cleaner bottles and canisters, we have cut our resin use by more than 5 million pounds a year.
We reduced by an average of 45 percent the amount of packaging material used in many of our Glad® trash bag products.
In 2010, our cat litter product lines moved from plastic pails to more sustainable cartons and bags. These newly designed packages are easier to handle, pour from and store, and save almost 6 million pounds of resin per year.
We have moved to new more eco-efficient triggers on all of our spray cleaning products.
The release of our concentrated Clorox 2® Stain Fighter and Color Booster led to a 36% resin reduction in packaging materials (saving more than 2.4 million pounds of resin annually). This reformulation also resulted in approximately a 54 percent water reduction (saving over 7.7 million gallons/year) and a 46 percent corrugate reduction. We also estimate that about 160,000 gallons of diesel are saved annually on shipping this smaller product.
We have removed the PVC shrink wrapping packaging on all of our Burt' Bees® Lip Balms and Lip Shimmer products, saving over 1800 miles of shrink wrapping film that would have otherwise found its ways to landfills.
Burt's Bees replaced some of their packaging trays from plastic to trays made out of renewable, compostable and recyclable potato starch.