A Commitment Across Our Business
Learn About Our New IGNITE ESG Goals
As a business that's been around for more than 100 years, we know how important it is to grow — but not at any cost. Since I became CEO, I've been emphasizing the importance of good growth: growth that's profitable, consistent and achieved responsibly. Not only is it the right thing to do, we believe it's the key to our long-term success.
Addressing Climate Change, Minimizing Our Footprint
Good growth starts with a commitment to addressing climate change. Rising greenhouse gas emissions pose a real threat to the health of our planet — from the existence of wildlife to the biodiversity of habitats as well as the availability of water and other natural resources. That's why Clorox supports congressional action on comprehensive national climate change legislation aimed at reducing total emissions of greenhouse gas over time without causing undue hardships for the U.S. economy.
We're committed to doing our part to help address climate change through our public sustainability goals and commitments, which are embedded in our long-term strategic plan known as our 2020 Strategy. Our 2020 Strategy calls for 20% reductions in greenhouse gas (GHG) emissions, energy, water and waste-to-landfill of our manufacturing and distribution operations by the year 2020. Today, we've already exceeded or are on track to achieve our goals, after having achieved double-digit reductions in GHG emissions, water use and waste-to-landfill between 2008 and 2011, our prior goal period. We're also looking for ways to reduce emissions of particulate matter volatile organic compounds (VOCs), sulfur oxide (SOx) and nitrous oxide (NOx) and are diligent about reducing, reusing and recycling fluorinated gases, or F-gases. Wherever required by federal, state or local regulations, we're committed to ensuring our facilities are compliant with our air permits that limit the use of VOCs, SOx and NOx and to public reporting of that data to relevant government agencies.
Making Sustainability Improvements to our Products
Our strategy also calls for making sustainability improvements to 50% of our global product portfolio. This goal is on top of having achieved sustainability improvements in half of our portfolio between 2005 and 2011. This requires all our business units to view their product life cycles through a sustainability lens to better understand and help address related GHG, water and other environmental impacts. We've also embedded sustainability considerations into our corporate decision and planning processes, starting with product and packaging design and development.
Driving Sustainability in our Supply Chain
Our sustainability strategy also addresses how we're working with our business partners— including raw material suppliers and other vendors — on important issues including climate change, responsible sourcing and ethical business practices. Our business partner code of conduct outlines our expectations of business partners in these areas, and since 2011 key partners have started self-certifying compliance with our code. In 2014, we also introduced a scorecard for our top 100 suppliers, which represents approximately two-thirds of our spending, in an effort to improve the sustainability of our upstream supply chain. The scorecard enables us to track our suppliers' progress against measuring and setting goals for reductions in water use, energy use, GHG emissions and waste-to-landfill. We also engage our suppliers on deforestation to help ensure that materials in our products and packaging are responsibly sourced.
Focusing on Transparency and Collaborating with our Stakeholders
We understand the need (and the expectation) to be even more transparent about our business. As a public company, we've long focused on sharing our financial results. In recent years, we've also stepped up our communications on our sustainability commitments and progress. We continue to be committed to reporting our progress through annual submissions to the Climate Disclosure Project and our annual integrated report, which is developed in accordance with guidelines of the Global Reporting Initiative and International Integrated Reporting Council.
We also believe ongoing dialogue and active participation in sustainability initiatives and programs are critical to continued learning and progress.
That's why we belong to a number of sustainability-related organizations, attend conferences and, when possible, meet with individual stakeholders or organizations on important corporate responsibility issues. For example, we're members of AIM-Progress, a forum for leading consumer goods companies and suppliers to help improve responsible sourcing practices and share supply chain audits. We're also a founding member of the Sustainability Consortium, an industry group focused on driving sustainability in products and supply chains. In 2015, Clorox became a signatory to the United Nations Global Compact, the world's largest organization of its kind, bringing together companies, NGOs, governments and other stakeholders to advance the most important sustainability issues in the world.
Continuing Our Sustainability Journey
We're making great progress against our 2020 goals, but we can't get complacent. The message that sustainability matters starts from the top, and we continue to reinforce it. The company's Board of Directors' Nominating and Governance Committee is responsible for oversight of environmental health and safety compliance at the company, including climate change. In addition, the Clorox Executive Committee, which I lead, oversees our 2020 Strategy, including our sustainability commitments. Clorox also has a corporate-level Eco Team led by a senior director of corporate responsibility and sustainability, who is charged with executing our sustainability strategy.
As we look to 2020 and beyond, sustainability will continue to be a long-term priority. For us, corporate responsibility, including our focus on environmental sustainability, is not a separate initiative; it's a part of how we do business. It's key to our focus on delivering good growth.
Sincerely,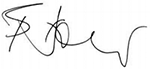 Benno Dorer
Chairman and Chief Executive Officer